As leaves crunch beneath your feet, the days become cooler and the dark of night creeps in sooner, kids young and old count down to a favorite holiday for many – Halloween! Whether hosting a fall block party in your neighborhood complete with pumpkin carving and apple cider or dressing up in spooky attire for a haunted celebration, amp up your ghoulish menu with these fruit- and veggie-packed frights and delights!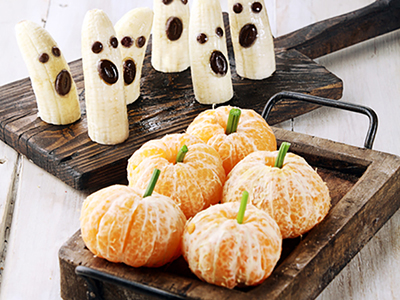 Ghost & Pumpkin Treats
There's nothing scary about how easy these snacks are to make! For the ghosts, peel 8 bananas and cut in half. Using black decorating gel, make two small dots for the ghost eyes toward the tip of the banana. Below the eyes, make one bigger circle for the mouth. Place on serving tray. To prepare the pumpkins, peel 16 clementines and leave whole. Cut 2 celery stalks into slim 2-inch pieces. Insert a piece of celery in the top of each clementine to make a stem. Add to serving tray with banana ghosts.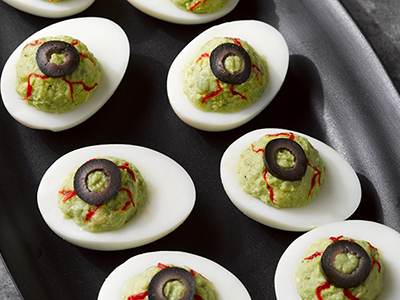 Spooky Eyes
You'll be the talk of the town when you bring out this dish, thanks to Avocados From Mexico! Peel 8 hardboiled eggs and cut in half lengthwise. Remove yolks and place in a medium bowl while arranging whites on a serving platter. Peel, pit and dice 2 fully ripe avocados and add to yolks along with 2 tablespoons lemon juice. Mash until smooth, mixing well then stir in 1 tablespoon grated horseradish, ½ teaspoon salt and ¼ teaspoon pepper. Fill egg white halves with a heaping tablespoon of mixture. To make devilish eyes, use hot sauce or ketchup to create veins and top with sliced black olives.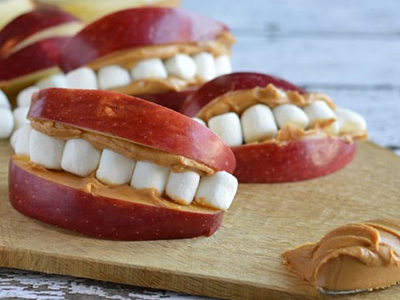 Apple Peanut Butter Bites
Your guests will be all smiles when they see this creation from Health by Jan. Begin by coring and quartering 2 red apples. Take an apple quarter and slice it lengthwise in half and then half again. Spread each slice of apple on one side with smooth peanut butter (you'll need about 4 tablespoons in total). Line 8 marshmallows on top of the peanut butter as teeth. Place another apple slice on top with peanut butter side facing down to make an apple slice 'sandwich.'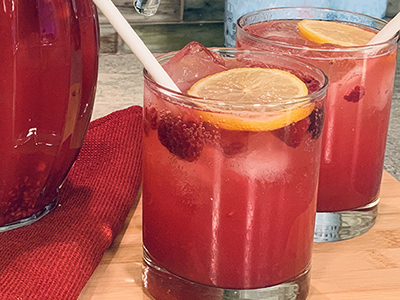 Razz Crush Red Party Punch
Refresh and hydrate with this spooktacular sparkly party punch from the National Processed Raspberry Council. Remove a 10- to 12-ounce bag of frozen raspberries from the freezer and let sit at room temperature for 30 minutes. While raspberries are in the bag, crush with a rolling pin. Open bag and transfer crushed raspberries into a pitcher or punch bowl. Add a 46-ounce can of 100% pineapple juice, ½ cup chilled fresh lime juice and ½ cup chilled fresh lemon juice and stir to incorporate. Add slices of 1 lemon and 1 lime, plus another bag of frozen raspberries, to the punch. To serve, fill glass about 2/3 full with punch and top off with sparkling water or wine.