Good food doesn't need to be complicated. In fact, it can be quite inexpensive and often a great way to utilize left over or discounted food items. Panzanella salads are a perfect example of budget friendly eating that originated in Tuscany to use up day-old bread. A classic panzanella recipe uses stale bread softened with water and served with tomatoes, basil, anchovies and cucumber as a salad. Clearly not an expensive dish and a good way to use up ingredients lying about. My version incorporates cinnamon raisin bagels, fresh fruit, walnuts and mint.
Salad building tips.
Don't pre-mix the salad. Layer the ingredients on top. This way when portions are served all the toppings have not sifted down to the bottom.
Show off ingredients by layering them from big to small. This also prevents hiding or crushing the more delicate ingredients and makes serving easier.
Cinnamon Apple Panzanella
Serves 3-4
Ingredients
1 Cinnamon Raisin Bagel – large 1 inch cubes, lightly toasted
1/2 Cup Cherries, pitted
¼ Cup Mandarin Oranges
½ Green Apple, thin sliced moon
¼ Cup Walnuts
1 Tbsp Sunflower Seeds
2 Cups Spring Mix
Fresh Mint Leaves
1 Pinch Cinnamon
Garnish with Poppy seeds and white balsamic vinegar
Directions
Lay down an even layer of spring mix on a wide flat serving platter or large plate.
Begin building the salad by layering the biggest ingredients first and working down to the smallest.
For example build in this order:
Bed of spring mix
Toasted bagels
Apple slices
Cherries
Mandarin oranges
Walnuts
Sunflower seeds
Mint
Poppy seeds
Cinnamon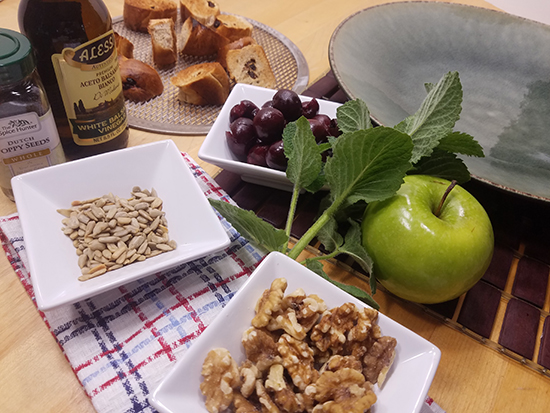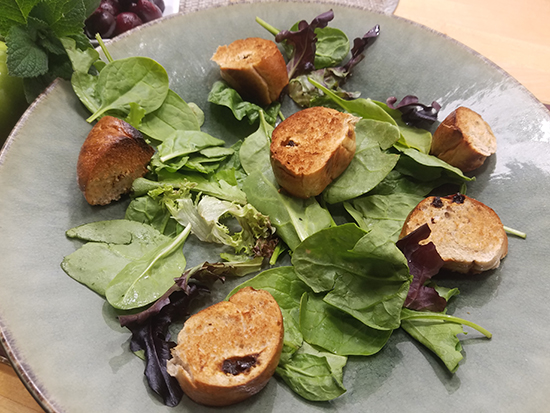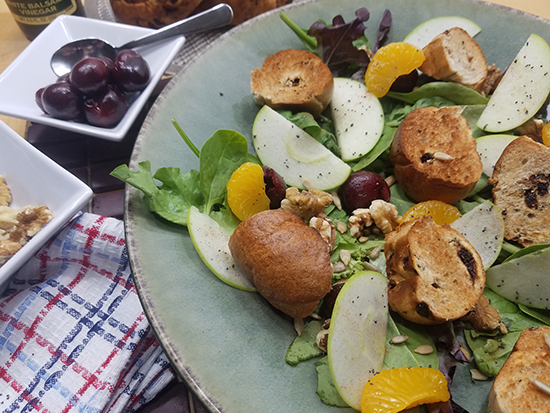 Nutrient Analysis
| | | | | | | | |
| --- | --- | --- | --- | --- | --- | --- | --- |
| Calories: | 187 kcal | Protein: | 5 g | Carbs: | 21 g | Total Fat: | 10 g |
| Sat Fat: | 1 g | Cholesterol: | 0 mg | Sodium: | 87 mg | Fiber: | 3 g |
Photo Credit: Andrew Dole