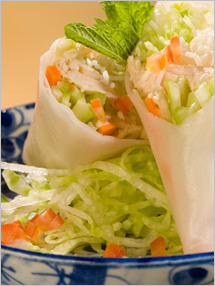 These cool appetizers are perfect when you don't want to heat up the kitchen.
They are also a great "make-ahead" item when entertaining guests.
Makes 5 servings
Dipping Sauce:

1 tsp minced onion

½ tsp minced garlic

½ tsp minced ginger

1 tsp lime juice

2 Tbsp

smooth peanut butter

Wraps:

3 oz fine brown rice noodles

1 cup cooked chicken breast, shredded

1 cup carrot, peeled and washed

1 cup celery, washed

1 ½ cups iceberg lettuce, thinly shaved

15 mint leaves

10 sprigs cilantro

5 rice paper wrappers (found in grocery produce section)

1. Pour 8oz boiling water over the rice noodles and allow to soak for 10 minutes.
Shock in cold water, drain and refrigerate.

2. In a small saucepan, bring the vegetable broth to a simmer with the onion, garlic and ginger.
Simmer for 2 minutes and remove from heat.
Whisk in the lime juice and peanut butter, allow to cool, then refrigerate.

3. Sliver the carrot and celery into long, thin strips.

4. Arrange a large bowl of hot water and each of your ingredients in front of you on your work surface.

5. Dip one wrapper into the hot water for about 20 seconds until soft.
Remove the wrapper and shake off the excess water.
Place on a damp towel.

6. Place 1/5 of the noodles, chicken, carrot, celery and lettuce on the edge closest to you.
Add 3 mint leaves and 2 sprigs of cilantro.

6. Fold the edges of the wrapper in to enclose the ends of the filling and then roll tightly to completely encase the filling.
Repeat with the remaining rolls and ingredients until all 5 rolls have been assembled.
Refrigerate until time to serve.

7. For serving, slice each summer roll in half and plate with approximately 1 tablespoon of the dipping sauce.

Recipe by The Culinary Institute of America, developed for Fruits & Veggies – More Matters

Search our database for even more recipes!