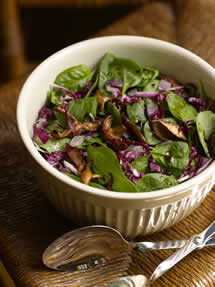 Sautéed shiitake mushrooms add an earthy flavor and heartiness to this salad, making it perfect for an autumn lunch.

Serves 8
2 tbsp peanut oil

3 cups sliced shiitake mushrooms

2 tsp reduced-sodium soy sauce

1 tbsp cider vinegar

1/8 tsp salt, or to taste

1/8 tsp freshly ground black pepper, or to taste

Dash Tabasco sauce

2 tsp olive oil

1/2 cup diced red onion

6 cups fresh spinach (trimmed, washed, and torn)

2 cups radicchio chiffonade
1. Heat the peanut oil in a sauté pan until it shimmers.
2. Add the mushrooms and sauté for 2 minutes. Add the soy sauce and cook until dry. Remove from the heat and place in a bowl. Add the vinegar, salt, pepper, and Tabasco sauce. Cool completely.

3. Add the olive oil to the pan and sauté the onion over low heat, stirring frequently, until translucent, about 5 to 7 minutes. Allow to cool.

4. Toss the mushrooms, onions, spinach, and radicchio together with the vinaigrette. Adjust the seasoning with salt and pepper to taste. Serve immediately.

Recipe from VEGETABLES by The Culinary Institute of America.


Search our database for even more recipes!