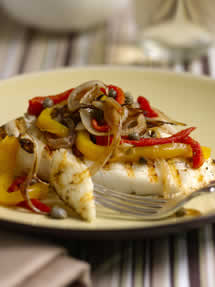 You can skip a few steps in this recipe by using prepared roasted red and yellow peppers. At certain times of the year you may find peppers at a great price. Take advantage of the bounty by preparing double or triple batches of the salad to have on hand. You can add the peppers to omelets, salads, sandwiches, stews, and soups.

Makes 8 servings
2 red bell peppers, or 1 cup of prepared roasted peppers

2 yellow bell peppers, or 1 cup of prepared roasted peppers

1/4 cup olive oil

1/2 onion, thinly sliced

3 tbsp garlic, thinly sliced

2 tbsp capers, chopped

1 tbsp sherry vinegar

1/2 tsp ground cumin

1/4 tsp red pepper flakes

1/8 tsp ground coriander

1 tsp salt, or to taste

1/2 tsp freshly ground black pepper, or to taste

3 lb halibut fillet
1. Preheat oven to 350 degrees F.

2. Rub the peppers with 2 tablespoons of the olive oil and roast them in the oven for 25 to 30 minutes, or until the skins start to fall off. Place the peppers in a bowl, cover with a piece of plastic wrap, and allow them to steam for 5 minutes.

3. Peel the skin from the peppers and remove the stems and seeds. Slice the peppers into thin strips.

4. Heat the remaining olive oil in a large sauté pan over medium-high heat. Add the onion and cook until lightly caramelized, about 8 to 10 minutes. Add the garlic and cook until aromatic, about 30 seconds.

5. Add the capers, vinegar, cumin, red pepper flakes, and coriander. Season with about 1/4 teaspoon salt and a pinch of black pepper. Add the onion mixture to the peppers and keep warm.

6. Preheat a grill to medium-high. Cut the halibut into eight 6-ounce portions and season with salt and pepper. Grill the halibut until just cooked through, about 2 to 3 minutes per side. Serve each portion with 1/4 cup of the roasted pepper salad.

Recipe from VEGETABLES by The Culinary Institute of America.


Search our database for even more recipes!