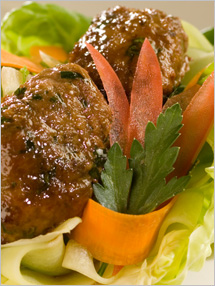 These kebabs are a fun, veggie packed,
alternative to burgers and hot dogs because
they can still be cooked on the grill and
the kids can still eat them with their hands
using the lettuce cup like a bun.
Makes 5 servings
Glaze:

1 Tbsp

reduced sodium soy sauce

Kebabs:

½ cup finely ground bulgur wheat

½ lb ground turkey breast (99% fat free)

½ cup finely diced onion

1 Tbsp nonfat yogurt

1 Tbsp olive oil

1 Tbsp chopped parsley

1 Tbsp chopped cilantro

1 Tbsp ground cumin

½ Tbsp chopped mint

¼ tsp ground allspice

¼ tsp ground pepper

1/8 tsp ground cinnamon

5
8" skewers, soaked in water for one hour

Salad:

5 butter lettuce leaves

½
English cucumber, peeled

½
large carrot, peeled

1. Pour 8oz boiling water over the bulgur and allow to soak for 10 minutes.

2. Whisk together the glaze ingredients and reserve until needed.

3. Drain and squeeze excess moisture from the bulgur.

4. In a food processor, combine the bulgur with the remining kebab ingredients. Pulse to fully incorporate.

5. Mold 3oz of the mixture onto each skewer.
Shape the mixture like a small football then flatten slightly. Refrigerate until needed.

6. Brush each kebab with the glaze and grill until cooked through, about 3 minutes on each side.

7. While the kebabs are grilling, wash and dry the lettuce leaves, set aside. Using a vegetable peeler, sliver the cucumber and carrot into long thin ribbons. Mix cucumber and carrot strips together and place equally in the lettuce leaves to form a bed.

8. Slip the grilled kebabs from their skewers onto each of the lettuce leaves. Drizzle with the remaining glaze and serve.

Recipe by The Culinary Institute of America, developed for Fruits & Veggies – More Matters

Search our database for even more recipes!