In my home, Christmas morning not only means opening presents, it also means having a big, delicious breakfast with family.  Many times we've had guests at our house, so having something special for breakfast was always a tradition.  While you can cook a typical breakfast casserole or the standard egg and breakfast meat, I've gathered some wonderful recipes that feature fruit and veggies that will not only keep your Christmas morning healthy, but also make it even tastier.
This Veggie Loaded Breakfast Casserole is exactly that–veggie loaded!  Shredded potatoes, mushrooms, red onion, garlic, baby spinach, and bell pepper are combined with shredded cheese, eggs, and milk.  Add a little hot sauce and salt/pepper to taste and you've got the best breakfast casserole I've found.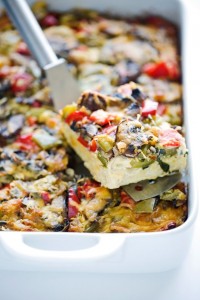 Courtesy of Little Spice Jar
This Spinach and Cheese Strata is terrific in that all the prep work can be done the night before.  Christmas morning all you need to do is pop in the oven and bake.  You'll use chopped onion, two packages of frozen chopped spinach, cubed French bread, shredded Gruyere and Parmesan cheeses, nutmeg, eggs, milk, and butter.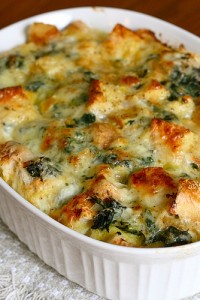 Courtesy of What 2 Cook
Winter Fruit Salad with Lemon Poppy Seed Dressing is a great way to start your morning and takes advantage of in season produce.  Mandarin oranges, apples, kiwi fruit, bananas, and pomegranate arils are combined together for the salad.  The dressing is made from lemon juice, sugar, olive oil, vegetable oil, honey, and poppy seeds.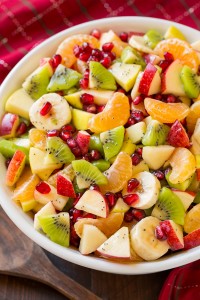 Courtesy of Cooking Classy
I hope everyone has a wonderful holiday and I'll be back next week with a recipe that will have you rethinking how you look at fruit cake.
See all posts