"The Feast of the Seven Fishes" is a popular Italian tradition celebrated on Christmas Eve, which involves a large meal revolving around numerous seafood dishes.  My mother's family used to celebrate it years ago with dishes like crabs in spaghetti and fried smelts among other things.  My husband's family, who are first generation Italians, celebrate it each year with the feast beginning around 5:00 p.m. and ending somewhere around 11:00 p.m. (I'm not really sure because I've never managed to make it to the end!).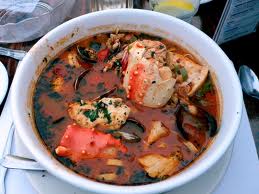 A few years ago after moving from New York, I wanted to continue the tradition, but didn't want to spend all night in the kitchen and wanted to make the dishes a bit healthier.  Most of them were either fried or consisted of either no or very little produce.  I finally managed to come up with a menu that satisfied everyone's tastes while keeping it nutritious.  I make two dishes–the traditional fried calamari (my husband wouldn't let me get away without making that) and Cioppino.
Cioppino is a seafood soup that originated in San Francisco and while there are different versions, they are all basically tomato broth-based with a variety of herbs and spices.  The Fruits & Veggies–More Matters web site has a great, healthy version of this soup in their recipe database that I'm including.  I should note that I do also add fresh mussels and fresh shrimp to mine and I use cod as my fish of choice.  Serve this with some crusty bread and a side salad and it's a delicous and filling meal.  Buon appetito and I hope you have a wonderful holiday!
See all posts