February is Cherry Month.  These small fruits are part of the stone fruit family, which also include other popular varieties like peaches, plums, and apricots.  Cherries are excellent choices for snacking and adding to your daily diet because of their nutrition benefits.  This fruit is fat free, sodium free, cholesterol free, a good source of Vitamin C, and a good source of Potassium.  In addition, because of their vibrant color, cherries are known to be filled with beneficial phytochemicals.  These are also known as antioxidants, which are found in plants and beneficial to your body.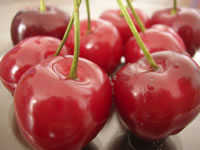 Courtesy of Fruits & Veggies–More Matters
While cherries are delicious all on their own, they are also wonderful added to many recipes and in a variety of forms.  Cherry Summer Kale Salad with Balsamic Vinaigrette can be enjoyed anytime of year.  Sweet and savory is how I would describe this dish.  It has the perfect blend of flavors and uses a variety of fresh ingredients that go perfectly together.  Kale leaves, cherries, blueberries, diced granny smith apple, chopped pecans, crumbled feta cheese, and crumbled bacon strips make up your salad.  Top it with a homemade dressing made with Dijon mustard, honey, dried basil, balsamic vinegar, and olive oil.  Perfection!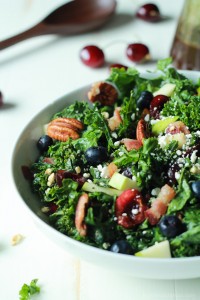 Courtesy of Joyful Healthy Eats
Cherry Coconut Smoothie is a super simple recipe that calls for only three ingredients, frozen cherries being one of them.  Add coconut water and fresh lime juice to the frozen cherries, blend until smooth and you've got a refreshing, low calorie treat!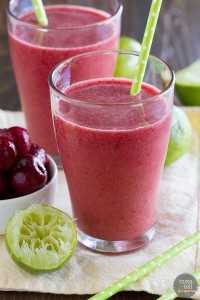 Courtesy of Taste and Tell
Looking for a healthy and gluten-free snack?  Chocolate Cherry Almond Snack Bars have you covered.  Dried cherries are combined with honey, vanilla, almond meal, almonds, butter, and mini chocolate chips.  You'll bake these bars for 20 minutes and store in the refrigerator.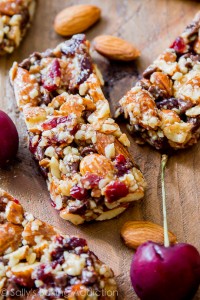 Courtesy of Sally's Baking Addiction
Have a great week and I'll be back next Monday with a step-by-step guide on how to create your own indoor herb garden.
See all posts