A family favorite, the sweet potato, is one of the most versatile, nutritious ingredients. Aside from its wealth of nutrition and Vitamin A content it's a food that can bring families to the table whether it's baked sweet potato fries, baked stuffed sweet potatoes, or the classic sweet potato casserole!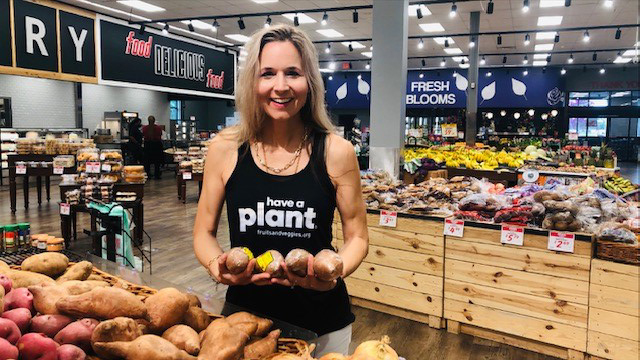 To celebrate the roots of our food, I interviewed Matthew Garber to learn about how his family business of growing sweet potatoes developed into a local ingredient that appears on my table at home regularly.
Garber Farms is in Iota, Louisiana, a small town of under 2000 people. Farming in the Garber family goes back to 1881.  The chapter with sweet potatoes in Iota started in 1978 when Walter Garber and his 2 sons, Wayne and Earl, started farming. Today Garber Farms is run by Wayne and his 2 sons, Matthew and Michael, with the next generation of 7 kids who will have the opportunity to continue farming.
Something that most people may not know about farming sweet potatoes is that the sweet potato crop is planted twice each year. The sweet potatoes must grow the plants which are then transplanted to grow the sweet potatoes.
Garber describes farming as a work of many passions and abilities to farm. "It is nice working as a family where each of our passions can be put into the many parts of farming and marketing to keep the business going" says Garber.
When I asked Garber how he would describe the feeling when he sees his produce in the grocery store, he said "We are always proud and always stop to inspect the sweet potatoes and how they are displayed.  Our retail connections are very important to the continued success of the farm."
Garber's favorite family dish is Roasted Sweet Potatoes. Here is how his family enjoys them:
Preheat the oven to 425F.
Using 2-3 pounds of sweet potatoes, chop sweet potatoes with skins attached into cubes and place in baking dish.
In a small bowl, mix 3 tablespoons of olive oil or pecan oil, 1 tablespoon brown sugar, 1 tablespoon crushed and dried rosemary, 1 teaspoon minced garlic, black pepper to taste.
Drizzle mixture over the cut sweet potatoes and mix with a spatula. Bake for 45 minutes, stirring sweet potatoes halfway during the baking process.
The Garber Farms website also directs customers to try recipes from the Louisiana Sweet Potato Commission.
Here are a few sweet potato facts about growing, selecting, and storing sweet potatoes from the Garber Farm website:
Louisiana offers the ideal soil and climate conditions to grow sweet potatoes.
Sweet potatoes should be washed and dried thoroughly before being cooked.
Ideally, sweet potatoes should be used within a week or two, however, they may be stored up to one month.
Always choose firm, fairly, well-shaped sweet potatoes with skin somewhat even in color and free of blemishes.
Thank you to Matthew Garber for this interview. We appreciate our farmers and celebrate the roots of our food.