May is National Strawberry Month and it's perfect timing since these delicious berries are at their peak of flavor!  Strawberries are a great addition to your diet since they are fat free, cholesterol free, sodium free, high in Vitamin C and a great source of folate.  We typically think of using strawberries in dessert dishes, but they are also the perfect balance in a spicy or savory recipe.
Fun Fact: On average there are 200 tiny seeds on every strawberry!!
Since it may be habit for many people to think about using strawberries in the traditional way, I've collected a few non-traditional recipes that are simple to prepare and perfect for the season.  Strawberry Summer Bruschetta makes the most of fresh produce.  Strawberries, tomatoes and a plum are combined with a light dressing over mozzarella cheese on sliced French bread, making this a terrific appetizer.

Photo courtesy of momdot.com
Strawberry Balsamic Chicken makes for an excellent summer entrée.  This baked chicken is topped with a healthy strawberry caprese topping made from sliced strawberries, fresh basil, balsamic vinegar and fresh mozzarella.  If you want to avoid heating your kitchen, I'll bet this is also great with grilled chicken breast.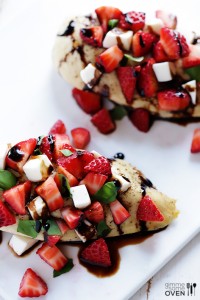 Photo courtesy of Gimme Some Oven
Light and healthy is how I would describe this Strawberry Quinoa Salad with Lemon Dressing.  Try it as a side dish or as a lunch entrée.  It's filled with fiber and protein-rich quinoa, sliced strawberries and diced apple.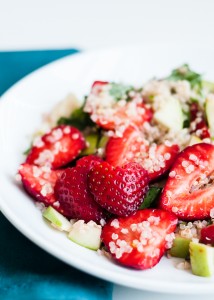 Photo courtesy of Babble.com
Need some more ideas for using strawberries?  Michael Marks, Your Produce Man, shows you that the possibilities are endless in this short video.  Salads, salsas, chutney and everyone's favorite–chocolate covered!
I'll be back next week to celebrate Fresh Fruit and Veggie Month.
See all posts