May is National Salad Month and with the warmer weather here, there's no better time to give your oven a rest and enjoy a lighter meal.  When we typically think of "salad," we think of a traditional side salad or green salad.  I encourage you to experiment–don't forget that salads include fruit and can be expanded to include protein, which make delicious entrees. 

A salad can be a nutrition powerhouse.  To boost the nutrition of your salad, think about adding color and texture.  Start with the greens and instead of using only iceberg lettuce, try mixing in darker greens like spinach, kale or red leaf lettuce.  Add your favorite veggies for flavor and crunch–cucumber, tomato, shredded carrot, radish, red onion and baby peas are a few options.  Fruits and a sweetness to your salad. Try citrus fruit like Mandarin oranges and grapefruit or go with sliced strawberries or fresh raspberries as a topping.  Don't forget the protein.  Beans like garbanzo, black or pinto beans add protein, fiber and flavor to any salad.  Low fat cheese or a lean meat like fish or chicken breast is also a great addition.  Nuts and seeds also make a terrific topping, adding crunch and flavor.

One of my favorite entree salads is a Cobb salad made by a local restaurant.  It consists of Romaine lettuce topped with grilled chicken breast, diced tomato, crumbled blue cheese, avocado, bacon and topped with a balsamic vinaigrette.  This past weekend I decided to replicate the salad at home, making a few tweaks to make it a bit healthier.  I added some red leaf lettuce and mesclun greens to the Romaine lettuce.  I substituted gorganzola cheese since my family prefers it and it has a similar flavor.  Instead of regular bacon, I used lower-fat, thin-sliced, turkey bacon.  I grilled the chicken breast  and added the avocado and tomatoes just like the restaurant version.  It turned out beautifully and my family loved it–I'll definitely make this again!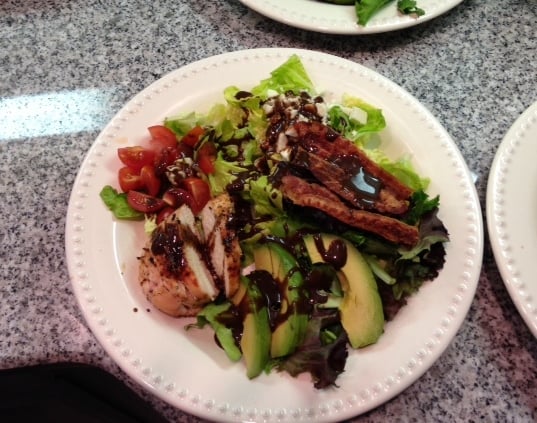 Fruits & Veggies–More Matters has a long list of salads in their recipe database from which to choose.  Sweet to savory, entree salads to side dishes, there's something for everyone.  So lighten up now that summer is upon us and find your favorite salad!

See all posts