February 8th marks the Chinese New Year and this year is the Year of the Monkey.  Celebrating this holiday involves certain foods for their symbolic meaning, these foods are believed to bring good luck throughout the year.  These foods are served during the 16-day festival season, but especially on New Year's Eve.  The most common foods include dumplings, fish, spring rolls, and niangao (a sticky rice cake that includes sugar, chestnuts, Chinese dates, and Lotus leaves).  While a Chinese restaurant would adhere to specific preparations of these dishes (there are ways to serve and prepare certain foods to obtain the most luck), if you simply want to acknowledge the holiday or add some new dishes to your recipe index, I've got a few ideas for you.
This Baked Herb Catfish recipe is a low-calorie option that is simple to make for your fish entrée.  Catfish is one of the fish choices that are supposed to bring the most luck in the year ahead.  Of course, this recipe would work equally well with any white fish such as flounder, tilapia, or sole.  Herbs like parsley, oregano, thyme, and basil are combined with lemon juice to bring out the fish's natural flavor.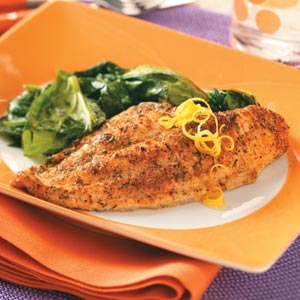 Courtesy of A Taste of Home
I've selected a recipe for Vegetarian Dumplings, which can be either steamed or fried.  These are made with wheat flour, vegetable oil, water, pak choi (a Chinese cabbage), green bell pepper, bean sprouts, spring onion, hoisin sauce, oyster sauce, and sesame sauce.  You will serve them with some soy sauce on the side.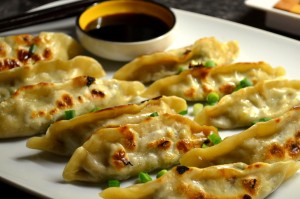 Courtesy of Ginger and Olives
Spring rolls are required for your celebration and this recipe for Baked Vegetable Spring Rolls is both delicious and healthy.  These are packed with crunchy veggies–carrots, zucchini, green beans, bell pepper, onion and garlic.  The wraps are phyllo pastry sheets, which can be found in your supermarket freezer section.  A tasty sauce is made from water, sugar, cider vinegar, soy sauce, pepper and corn starch.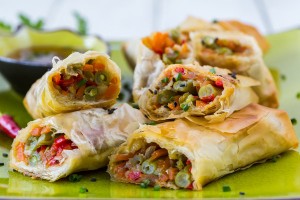 Courtesy of Skinny Ms.
One other way to bring about good luck is the eating and displaying of oranges and tangerines.  It will also probably help bring about good health, since these fruits are fat free, cholesterol free and high in Vitamin C and a good source of fiber.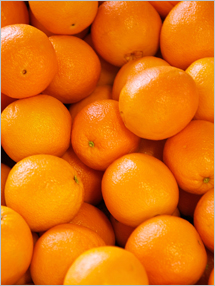 Courtesy of Fruits & Veggies–More Matters
Enjoy and next week I'll talk about some healthy heart tips for American Heart Month.
See all posts