Boost Your Nutrition Score with More
Inspired by 2 recent trips to the Central Valley in California, I am sharing a recipe that combines pantry staples in a delicious and nutritious way to help you boost your produce and add some pow to the palate. The stars of this dish are canned tomatoes and prunes for year round enjoyment with haste, no waste and fabulous taste. I have taken the mole and elevated it by adding more produce (prunes) resulting in a fruit and vegetable sauce/dip that both meat eaters and vegetarians will love.
September is National Fruits & Veggies Month™ and time to score with one more when it comes to adding produce to the plate. This dish contributes to your produce intake with flavor to savor. And the good news is that extra can be frozen in ice cube trays. Mole, hooray!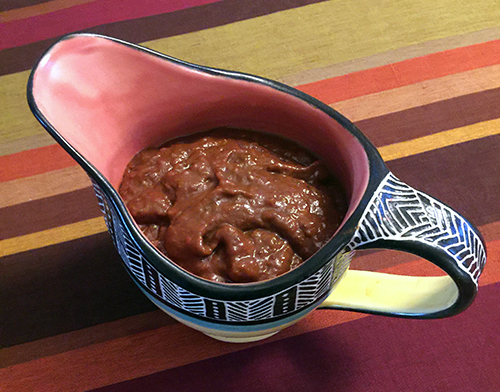 California Inspired Mole
Ingredients
1 TBSP olive oil
½ cup chopped yellow onion
1 clove garlic, minced
1 15 oz can diced fire roasted tomatoes, not drained
1 TBSP diced green chilies, canned
12 pitted prunes, sliced in half
1 TBSP unsweetened cocoa powder
¼ teaspoon cinnamon
dash of cloves
dash of cumin
2 TBSP orange juice
½ teaspoon salt or to taste
¼ teaspoon chipotle powder
Instructions
Saute onion and garlic in oil until golden brown then add tomatoes, prunes, orange juice, cocoa powder and spices.
Cook on medium heat for 4-5 minutes.
Transfer to a blender or food processor and puree until smooth.
Serve over chicken, pork, turkey or tofu or use as a dipping sauce with raw vegetables or to spread on a tortilla with meat and/or beans and avocado.
Nutrition Facts
Total Fat: 4g
Total Carbohydrate: 19g
Dietary Fiber: 3g
Sugars: 9g
Protein: 2g