Our farmers and growers work long hours so that we can top off our bowl of oatmeal or yogurt with a touch of sweetness to make our day's a bit brighter. For California family farmers, there's no such thing as summer break – the tireless commitment that goes into tending crops is a year-round effort.
Dan and Matt Bozzo
are third- and fourth-generation
California Prune
growers with deep connections to the agricultural community and a true passion for tending to their crops.
Dan has grown California Prunes his entire farm career while running the family-owned Triple B Ranch in Gridley, California. Born and raised in a family of prune growers, Dan finds inspiration for his work through his enjoyment of the outdoors, the challenges of nature, and his love of growing food.
Matt has followed in his father's footsteps and manages the Golden Gate Hop Ranch, home to 130 acres of lush California Prune orchards in Yuba City, California. Matt's been growing prunes for the past 11 years, and credits his childhood spent working in the orchards alongside his whole family as the reason he's so passionate about growing the crop for his career.
While Matt has his own ranch to run, he returns home to the family farm often to work alongside Dan as they drive tractors, check irrigation, and keep the operation running smoothly through harvest season to deliver California Prunes to retailers nationwide. While producing the premium quality fruit that California Prunes are known for, the Bozzos are dedicated stewards to the lands their family has spent generations cultivating.
Sun-Maid Growers of California
The journey begins with family farmers who immigrated to California over 100 years ago and it continues today. Sun-Maid grape growers utilize the sustainable natural resources of sun, soil and water, and are constantly improving their farming practices. Let's dive into their field-to-table story:
As a farmers' cooperative, Sun-Maid is privately owned by 750 families who farm 50,000 acres of raisin grapes in central California. This unique growing area — featuring long, dry summers optimal for grape production and natural sun-drying of grapes into raisins — has been the heart of the raisin industry since early settlers immigrated to California after the Gold Rush in the 1800s.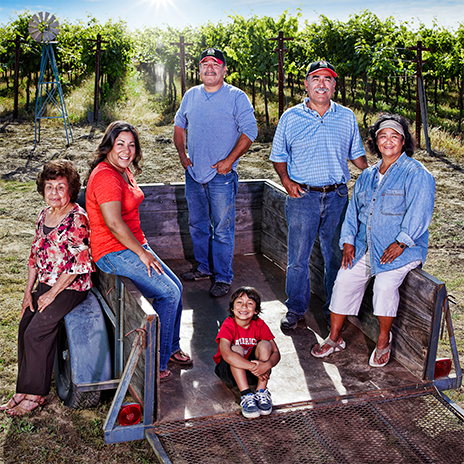 Sun-Maid grape growers utilize sustainable natural resources of sun, soil and water and are constantly improving their farming practices. Gary and his family are second-generation raisin growers and members of the #SunMaidGrowers cooperative.
For Sun-Maid's family farmers, there's no such thing as summer break. During the summer months, vineyards are irrigated, and the raisin grapes continue to grow to maturity. At the end of summer, the farmers will harvest — as they have done for Sun – Maid's 100+ year history—and the grapes will be dried into raisins to be available and ready-to eat all year-round.