If you buy your lunch each day, you know while it's convenient, it can also become costly.  On average, buying lunch between $5-$7 per day and that's if you are ordering something to take back to your desk.  Dine at a restaurant and you're likely to spend somewhere in the range of $15-$18, with tip easily.  Aside from the financial burden buying lunch each day can bring, many times deli-bought sandwiches and salads can have hidden fats and calories you won't have if you were making the same dish at home.  I'm not saying that every now and then you shouldn't treat yourself to a lunch out, but why not save some money and eat healthier on a daily basis by bringing your own lunch most days?  I can certainly think of better things to do with all that extra $$ (like a new shoes!).

I know most of you are probably envisioning a boring sandwich and bag of pretzels or apple as your go-to lunch.  However, with a little planning your lunch can be something you'll really look forward to each day and one that will rival anything your local sandwich/salad shop can produce.

Do you like Mexican?  Then try this Healthy Burrito.  Just start with a whole wheat tortilla and choose your fillings.  This one uses vegetarian options like kidney beans, cabbage slaw, Greek yogurt, tomatillo salsa and shredded cheddar.  Get creative–maybe you like black beans and rice or maybe you like to spice it up with a few jalapenos.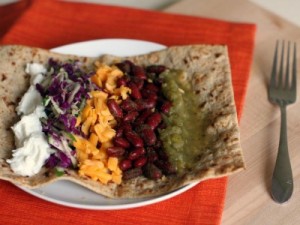 Photo courtesy of Michelle Buffardi for Food Network

Bento boxes have become popular ways to pack lunches.  This Spring Pasta Salad is ideal for the upcoming season with its array of fresh veggies and flavorful feta cheese.  Arrange the salad on a bed of butter lettuce and pack some fruit like the seasonal strawberries shown and you've got a satisfying, healthy lunch.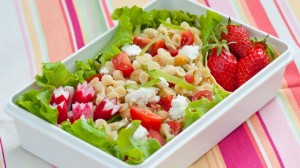 Photo courtesy of Redbook

Ramen noodles …how many times have we been short on time and forced to microwave a container of the sodium-filled cup of those noodles?  And, let's be honest–at one point in our lives, most of us enjoyed them to some degree even though they have little to no nutrition value.  Here's some good news–you can actually create your own quick noodle soup that is healthy, without all that sodium.  I'm talking versions that contain REAL ingredients!  How do flavors like Chicken and Dill Instant Noodles or Coconut Curry with Shrimp Instant Noodles sound?  All it takes is a little advance prep and you'll have an instant soup your co-workers will be craving.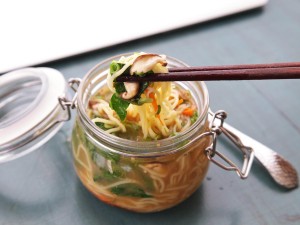 Photo courtesy of J. Kenji Lopez-Alt for Serious Eats

Rethink your usual Chicken Salad recipe with this version from Fruits & Veggies–More Matters.  It uses non-fat Greek yogurt as a base and adds in apples, celery and raisins for crunch and sweetness.  Try serving this on a bed of butter lettuce.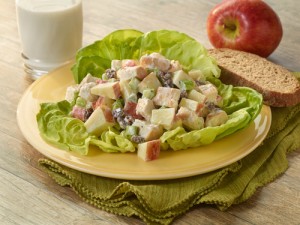 I hope I've given you some ideas for brown bag lunches this week.  I find it's always easier for me to control my portion size and eat healthier when I've brought my own lunch from home instead of ordering out when I'm already hungry.  I'll be back next week with some green menu ideas for your St. Patrick's day celebration.

See all posts