It's tournament time and it's a great reason to get together with your crew! Whether your bracket is busted in the first round or if your team is hanging in there, this game-day menu is sure to be a fan-favorite.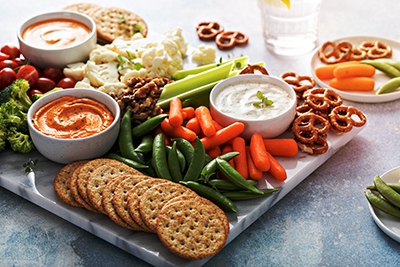 Pile high with fruit produce including carrots, snap peas, broccoli tomatoes, and cauliflower. Enjoy it with buffalo dip, hummus, and homemade ranch. Don't forget to add in the walnuts and pretzels for that finishing touch!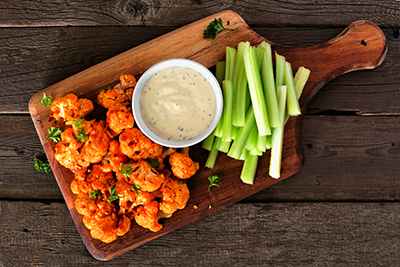 Wings are always a game-day favorite! Whether it's real chicken wings or Buffalo-tossed roasted cauliflower, fresh celery and a creamy-blue cheese always hit the spot!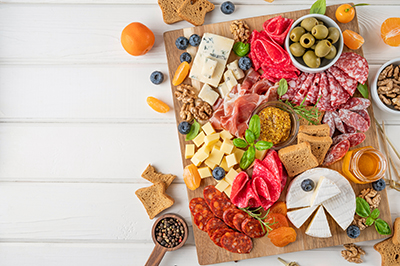 Last, but not least, your classic charcuterie. This allows for those extra ingredients that pair perfectly with your produce platters.
Combine all three of these for a menu that will have your guests giving you the extra point!
Boards are always a crowd pleaser! Here are a few of my favorite boards with incredible dips and a few tips that are sure to make your game-day party a SLAM DUNK!
Add Variety
Whether your guests have a sweet-tooth, or they favor the savory flavors- build a few boards that will satisfy all your guests.
Add Color
The easiest way to add color is to pile on the fruits and vegetables. Think seasonal items and think finger-foods! Celery, cherry tomatoes, carrot sticks, jicama, and others are so easy to add to your plate.
Don't Skimp on the Dips
Dips add dimension to your board and add in even more flavor! For veggies think about hummus, ranch, dill-dip, buffalo dip & more!
Produce Pairings
Of course, we want to keep produce at the center, but I'd be remiss if we didn't include other flavorful foods that pair perfectly with produce to finish off these boards. Think of proteins, healthy fats, and whole grains that bring this "snack" board to feel like a nice small meal for your guests.
Keep it Fresh!
Keep food safety top of mind and be sure your boards with perishable foods aren't left out for too long. If you have stone-like platters, pop those in the freezer the day before and build your board on it the next day. It helps keep your nice and chilled.
Happy & Healthy Eating! May the best team win!