July is National Baked Bean Month!  It's no surprise since picnics, barbeques and summertime gatherings almost always offer up this popular side dish.  Hot dogs, hamburgers or grilled chicken are hard to imagine without a steaming plate of sweet and savory beans to go with them.
Traditionally, baked beans are made with salt pork, which is great for adding flavor, but also adds fat and calories to the dish.  Since beans are a super healthy food–they are high in fiber, a great source of protein and folate, finding a way to keep the traditional flavor without adding the fat is my goal.  This recipe for Vegetarian Baked Beans does just that!  It uses navy beans, the typical bean used for baked beans and keeps the ingredients simple.  Some vegetarian recipes want to add a bunch of odd items that you typically won't find in traditional baked beans, which, in my opinion, makes it a completely different dish.  While this recipe is homemade, the flavor pays off for the time and effort.  You can use either canned navy beans or start with dried beans and cook them until soft (either by cooking in a slow cooker or in a large pot covered with water).  I hope you'll give this recipe a try for a different and healthier spin the next time your menu calls for baked beans.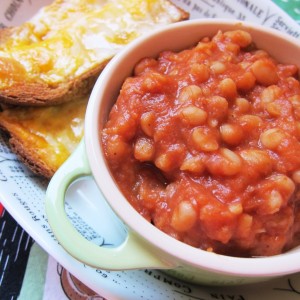 Vegetarian Baked Beans
6 cups cooked navy beans
4 carrots, sliced
1 onion, diced
28 ounces tomato sauce
2/3 cups white wine
2 tablespoons brown sugar
2 teaspoons blackstrap molasses
2 teaspoons mustard powder
2 teaspoons salt
1/2 teaspoon pepper
Preheat oven to 350 degrees,  In a deep baking dish, mix all ingredients together.  Let bake for 3 hours.  This makes 8 servings.
See all posts