The autumn season brings crisp days, chilly evenings and lots of football!  In our house, a favorite dish we enjoy while watching the game is a hearty bowl of chili.  I usually tend to make the traditional tomato-based blend, using ground turkey breast and kidney beans, but there are so many variations of this favorite worth exploring.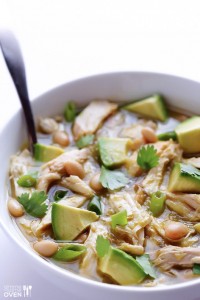 Let's start with what's become a new hit–white chicken chili.  While there are different takes of this version, the primary ingredients include shredded chicken breast, white beans (such as Great Northern beans), chicken broth and cumin.  One interesting version I found on Pinterest adds a "special ingredient" of homemade tomatillo salsa verde.  Aside from the salsa verde, there are only four other ingredients to making the perfect chili–thus the recipe name,
"5-Ingredient Easy White Chicken Chili."
  You can substitute store-bought salsa if you don't want to make your own, but the recipe is also available and I'm thinking it will make a big difference!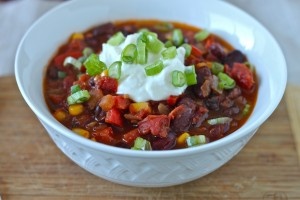 Going meatless doesn't mean a less hearty chili.  Vegetarian chilis options are filled with a variety of beans and veggies that are very satisfying.  This recipe for Quick and Easy Veggie Chili includes two different kinds of beans, diced tomatoes, onions, corn and bell peppers.  Add toppings like low-fat shredded cheese, sour cream and avocado and you'll never miss the meat.
Do you want to spice it up?  This recipe for Frank's Red Hot Turkey Chili does exactly that!  It's also got some additional inclusions like mushrooms, carrots, celery and white kidney beans that you might not often see in chili recipes.  It calls for 3/4 cup of the spicy sauce, which you can always increase if your tastes run bolder or lessen if you prefer a milder flavor.  Lean ground beef can also be substituted for the turkey in this recipe.
October is National Chili Month and this is the best time of year to curl up on the couch with a steaming bowl of your favorite recipe.  Make it a point to try one of these different combinations and you might have a new game day dish to love.
See all posts