According to the USDA, bananas rate as the top fresh fruit consumed by Americans.  Data showing most commonly consumed fruits by U.S. consumers in 2013, list bananas in the top spot, with Americans eating an average of 11.4 pounds per person (apples come in a close second at 10.7 pounds per person).  It's not surprising considering the flavor and portability of this fruit–making it the perfect on-the-go snack.  And, bananas are a nutrition bonus.  They are fat free, cholesterol free, sodium free, a good source of fiber, a good source of Vitamin C and potassium.  While it's easy to grab a banana, peel it and enjoy the sweet taste or slice it into your morning cereal or fruit bowl, there are plenty of other ideas you can (and should) consider for cooking with bananas.
Healthy Banana Pancakes are a delicious alternative to your usual breakfast recipe.  You may also like the fact this recipe is gluten-free.  You'll use one ripe banana (mashed), two eggs, 1/4 cup of almond flour, one teaspoon baking powder, 1/4 teaspoon of cinnamon, a pinch of salt, and some cooking oil.  Top your finished pancakes with maple syrup, yogurt, or sprinkle with a bit of extra cinnamon.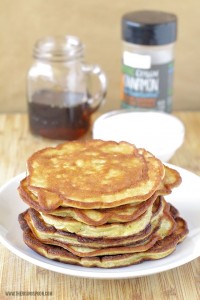 Courtesy of The Rising Spoon
Everyone knows that bananas are a terrific ingredient in a smoothie.  This recipe for Banana Bread Smoothie gives you the flavor of banana bread, but adds in lots of protein and takes out all the fat and calories.  This recipe makes two servings and you'll need two bananas, one cup of almond milk, 1/2 cup of uncooked old fashioned oats, 1/2 cup of plain non-fat Greek yogurt, one teaspoon vanilla extract, 1/8 teaspoon cinnamon, a pinch of nutmeg, and a pinch of salt.  Blend all ingredients together until smooth and serve immediately.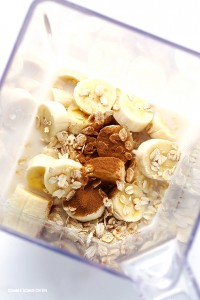 Courtesy of Gimme Some Oven
An afterschool snack that will please even the pickiest eater is this Fruits & Veggies–More Matters kid-friendly recipe for Banana In A Blanket.  You'll need a banana, a whole wheat tortilla, one tablespoon reduced-fat peanut butter, one teaspoon maple syrup or honey, and one tablespoon crunchy, nutty nugget cereal.  Spread the peanut butter on the tortilla and sprinkle the cereal on the peanut butter.  Place the banana on top and roll the tortilla up.  Drizzle the maple syrup or honey on top.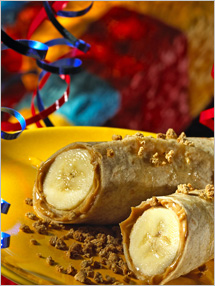 Courtesy of Fruits & Veggies–More Matters
I hope these recipes will inspire you to try new ways to enjoy bananas and I'll return next Monday with some ways to liven up your grilled cheese sandwiches.
See all posts