Now that everyone is back to school, I know you have extra hungry children running through the door in the afternoon.  I'm not sure if it's all the studying or activities during the school day, but something about getting off the bus makes kids want to clean out your refrigerator.  I know mine would always come home telling me they were starving.  The key is giving them something that will take the edge off their hunger, provide them with some energy and nutrition, while not spoiling their appetite for dinner.
I've pulled together some fun and flavorful snacks your kids will love and you'll feel good about serving them. To start, Fruits & Veggies–More Matters has this great recipe for Bookworm Apple Bark, which combines a Granny Smith Apple, peanut butter, raisins, and dried cranberries.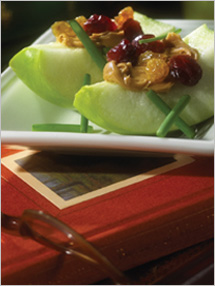 Courtesy of Fruits & Veggies–More Matters
Banana Split Bites are a healthier version of the old fashioned ice cream favorite.  This recipe calls for freezing pieces of banana, strawberry, and pineapple.  Then you'll dip them into chocolate and nuts and serve.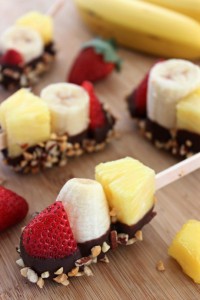 Courtesy of Life Love Liz
Cucumber Sandwiches are a savory snack and these bite-sized munchies are also gluten-free.  Thinly sliced cucumber takes the place of bread.  You'll also layer on tomato, turkey, and cheese.  Feel free to add other veggies like onion or avocado if you choose.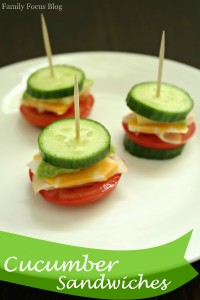 Courtesy of Family Focus Blog
Symphony of Fruit Pizza is another terrific recipe from Fruits & Veggies–More Matters.  You'll use an English muffin as your base and top with fat-free strawberry cream cheese.  Pile on sliced strawberries, grapes, and Mandarin oranges for a sweet treat.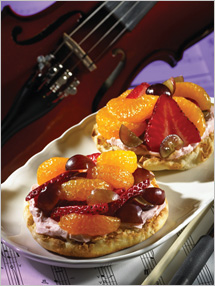 Courtesy of Fruits & Veggies–More Matters
These snacks are so good you'll be tempted to try them yourself!  I'll be back next Monday with some great recipes for fall Sunday dinners.
See all posts