We've all been faced with a familiar situation–you're doing really well, eating a healthy diet, then it's time to go on vacation and BAM! all sanity goes to the wind.  I'm here to tell you it is possible to go away, stay focused on eating healthy and still enjoy yourself.  I'll even use my recent trip as an example.
A couple of weeks ago I went out to Las Vegas to accompy my husband who was attending a conference.  If you're at all familiar with Vegas, you know that it's known for (aside from the gambling and shows) it's many restaurants and all-you-can-eat buffets–the latter a danger zone for anyone trying to be careful about their diet.  I am of the mindset that no person needs to be eating "all you can," ever.  I mean seriously, what are we, bears who are going into hybernation??  Aside from the fact that stuffing myself is going to wreak havoc on my waistline, I'm going to feel very uncomfortable afterward (does the word "indigestion" come to mind?).  So, I was intent that I was going to stick to my healthy eating plan regardless of the fact that I was away from home.
 What's great is that many hotels and restaurants are offering a lot of fruit and vegetable options these days.  We stayed at the Bellagio and they, along with most of the hotels in Vegas, have multiple restaurant options within the hotel.  The first night we arrived I was tired from the long flight and not all that hungry so we decided to go to the Asian restaurant in the hotel and I decided to order a bowl of their won ton soup.  I wanted something warm and comforting as I was planning to go to bed early that evening.  This soup was far better than any won ton soup I've ever had.  It was packed full of bok choy, green onions and even some broccoli rabe!  The dumplings were shrimp instead of the traditional pork, which I really enjoyed.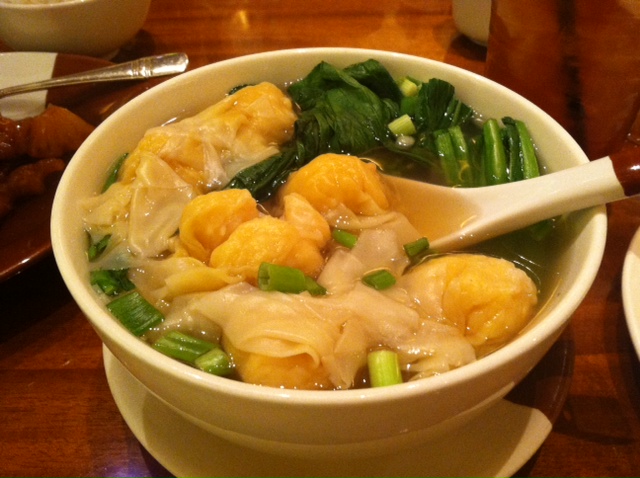 Breakfasts at the hotel's main restaurant were excellent.  Yes, I could have ordered high calorie or fat options, but it was really easy to order healthy meals as well.  My favorite was the "spa" omelet, which was made with egg whites and asparagus and served with sliced tomatoes.  Very filling and low in both fat and calories.  My husband and I would also order a bowl of cut, fresh fruit and share it.  The variety was wonderful–melon, berries, pineapple and grapes.  There was more than enough for both of us.  Lunches were salad made with a variety of greens (spinach, mesclun, arugula) and other fruits and veggies.  Sometimes I'd get grilled chicken or fish as a topping.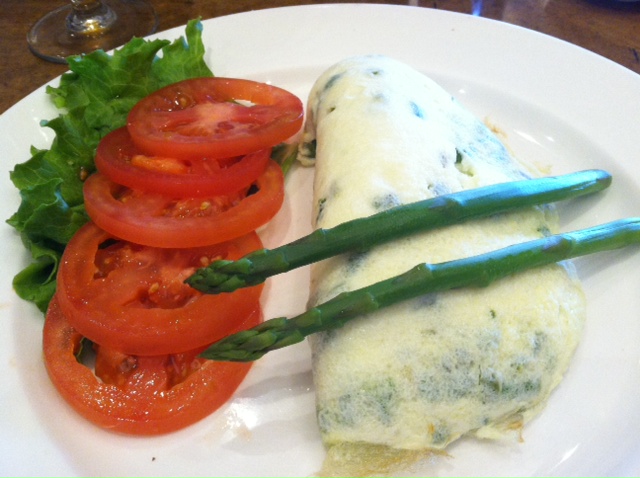 We had dinner at two different restaurants–one Italian and one a steak restaurant.  At the Italian restaurant we were dining with some of my husband's colleagues.  It was funny that the entire table ordered the same green salad, which was excellent–mixed greens with a variety of veggies and topped with pomegranate seeds in a light citrus dressing.  For my entree, I opted to go with a pasta dish that was simple.  Linguine made with chopped tomatoes, garlic, olive oil and basil–a basic pomodoro sauce.  The last evening of our stay we ate at the steak restaurant.  My husband enjoys steak and since I don't prepare it at home, he does like going to a good restaurant when we're away.  I chose a pan roasted Dover sole and steamed asparagus, which was delicious.  I can always find a fish that I enjoy at any steak place so we're both happy going there.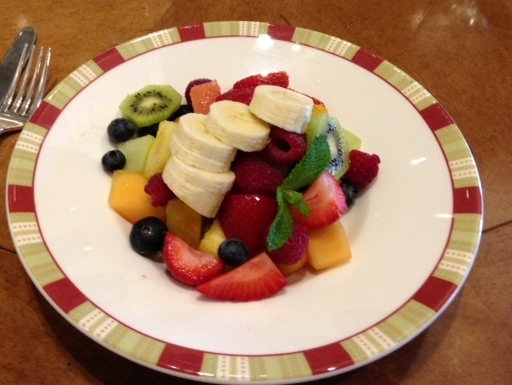 I obviously very much enjoyed my stay and didn't at all feel deprived while I was in Vegas–quite the opposite in fact since I was eating some dishes I don't normally prepare like the Dover sole.  However, I kept to my typical mindset of eating a healthy diet that is filled with fruit and vegetables, low in fat and full of nutrition.  Of course I treated myself to a pastry from the French bakery while I was there–everybody should work in a favorite food here and there!  The best part–when I got home I had actually lost a pound!  Probably from the extra walking I was doing during the day sightseeing.  It's all about taking the time to make the right choices.  Here are a few more tips about choices when you dine out.  It can help you when you go on vacation or even the next time you go out to eat!
See all posts