If you're like me and a fan of fresh avocados, then don't walk, but run to your supermarket!  Right now is the best time of year to get your hands on perfect, ripe avocados that are super cheap and the most flavorful.  Yes, spring is avocado season and if you only use these delicious fruits for the traditional guacamole, you don't know what you're missing.
Let's start by singing the health praises of the avocado.  These fruits are packed with heart healthy (monounsaturated) fats, which can help lower cholesterol and improve heart health.  They are also a great source of magnesium, phosphorus, iron and potassium.  In fact, avocados contain more potassium per gram than bananas!  So there are plenty of reasons to add them to your diet wherever possible.  I love guacamole, but there are plenty of other ways to enjoy avocados.
Some ways are really simple, like slicing avocados onto your sandwich like you would a tomato or putting chunks of avocado into your salad.  Avocados can also be used in place of things like mayonnaise.  Just mash part of an avocado, season it with a little pepper and salt if you like, and spread it on your bread or use in a recipe.  The creamy texture works like mayonnaise would, but you don't have the saturated fat as you would mayonnaise, plus it's all natural!
One idea that's quite popular is "avocado pasta."  I've seen many different versions, but they all involve mashing avocado to create a creamy base to the pasta.  I like this idea of adding extra veggies to the mix like the image below.  This includes cherry tomatoes and fresh basil.  Season with some fresh ground pepper, a little fresh squeezed lime and a bit of salt if you choose.  This is a lovely spring or summer meal.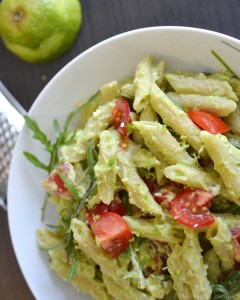 Stuffed avocados are also a big hit.  You can bake eggs in them or grill them topped with cheese.  I couldn't resist this version of Caprese Stuffed Avocados.  Tomatoes, mozzarella and basil garlic oil are combined for the filling and then served over a bed of greens.  Easy to prepare, but elegant enough for company.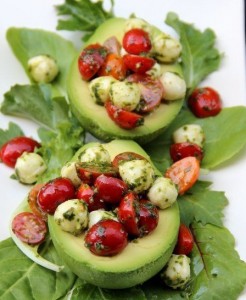 We usually think of avocados as something savory, but their mellow flavor can also be used in a sweet recipe just as easily.  A perfect example is this Chocolate Avocado Smoothie.  You'll be able to get your chocolate fix without feeling guilty.  This recipe uses avocado, banana, Greek yogurt and milk.
I hope you'll join me in enjoying just a few of the ways to enjoy avocados while they're in season.  I'll be making these recipes, along with a few others.  And yes, I'll also be fixing a few bowls of my all time favorite–guacamole!