If you've ventured into any specialty culinary story recently or subscribe to a food magazine, you've probably noticed that Asian flavors are quite popular these days.  And why not?  Chinese take-out, Japanese restaurants, Thai food …they are all growing in popularity across the country.  It's natural that consumers want to begin learning how to recreate their favorite dishes at home.  A bonus of being able to cook your favorite Asian meal in your own kitchen (besides not having to leave home to enjoy it), is it will ultimately be a healthier, lower-fat version of what you'll get at the restaurant.  Plus, you can tweak it to add or delete specific ingredients to your liking.
I've pulled together a few Asian inspired recipes that are pretty mainstay when it comes to dining out in various Asian restaurants (or ordering in).  These recipes are healthier versions than what you'll find on any restaurant or take-out menu.  I'll begin with something I always ask for when ordering Chinese …Won Ton Soup.  Not only is this a lightened up version, but the total time it takes to prepare is 40 minutes (20 to prep and 20 to cook).  Diced shrimp, green onions, garlic, oyster sauce, and other spices are used for the won ton filling.  You'll use chicken broth, shiitake mushrooms, garlic, bok choy, ginger, green onions, sesame oil, and miso paste for your soup base.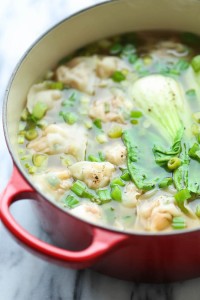 Courtesy of Damn Delicious
Asian Sesame Cucumber Salad is a delicious side dish, especially during the warmer months as it requires no cooking.  Use a spiralizer or a julienne peeler in order to get very thin strips.  You'll use cucumber and carrots and then combine the veggies with salt, vinegar, lime juice, honey, sesame oil, red pepper flakes, sliced scallion, toasted sesame seeds, and chopped cilantro.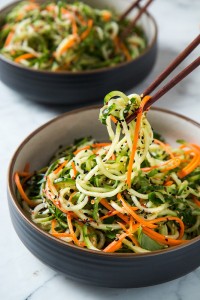 Courtesy of Will Cook For Friends
Quick and easy is how I'd describe Moo Shu Chicken.  You'll create a marinade from hoisin sauce, rice wine vinegar, oyster sauce, soy sauce, sesame oil, and garlic.  Ingredients for the Moo Shu are thinly sliced chicken breast (or pork if you prefer), a bag of shredded cole slaw mix, two eggs (whisked), sliced shiitake mushrooms, tortillas and extra lettuce for serving.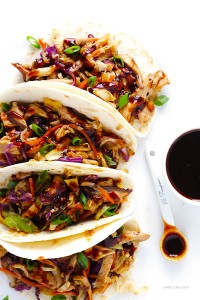 Courtesy of Gimme Some Oven
I hope you'll give these recipes a go the next time you crave Asian flavors.  I'll be back next Monday with some terrific summer sandwich ideas.
See all posts