Each fall I encourage families to go to their local farm or orchard and take advantage of the in-season, local produce while having some autumn fun.  This year, I decided to visit my favorite place, Milburn Orchards, and take a few photos to show you what local farms have to share during harvest season for you and your children.  I stopped by Milburn's on a Tuesday since weekends are prime time for apple picking and it can get pretty crowded.  It was great because I was able to speak with a member of the Milburn family and she told me how they had not only expanded their farm market store, but also added lots of fun activities for the kids.
 I'll start with the farm market store since the abundance of fresh fruits and veggies is at the top of my list.  Needless to say, they had every type of apple I could possibly think of and what was especially helpful was a board posted on the wall that described the different varieties and how they are best used (i.e. baking, snacking, etc.).  Different kinds of winter squash like butternut and acorn filled baskets as did various sizes of pumpkins.  I made a beeline to the refrigerated section for my favorite item–the homemade apple cider.  Seriously–this is something I look forward to all year!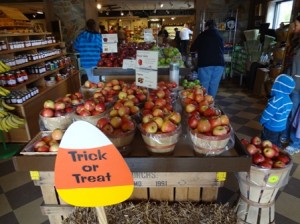 As with many farms, Milburn's allows consumers to "pick-your-own" apples.  There are fields upon fields of different varieties of apple trees and they have tractors that will take you out to the field and bring you back to the parking area.  Outside the farm market is also the fun area for kids.  Hay rides, a corn maze, animal petting area, pumpkin pyramid …I could go on and on.  The day I was there a small group of daycare children were visiting and a Milburn staff member was teaching them about the different animals that live on the farm.  As you can see from the photo below, the long haired rabbit was an instant hit.  I also loved the big sign about how an apple grows–a great educational tool for children.  It provides a colorful step-by-step explanation of the transformation from bud to apple as you can see in the photo.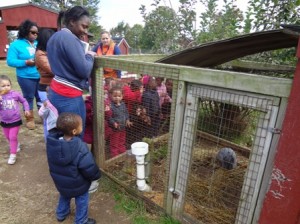 Check out our Fruits & Veggies Happenings page, specifically the Community Database to find Farmer's Markets and autumn events near you.  It's a great way to introduce your kids to healthy eating and teach them how produce is grown.  I had fun the day I visited the orchard and I'll definitely make another visit before the season is over–I've got to get more fresh apples and some of that delicious cider!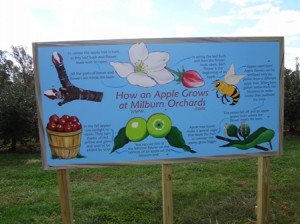 See all posts