March is National Frozen Food Month, which means it's a great opportunity to discover ways to add frozen fruit and veggies to your recipes.  Frozen fruit and vegetables are obviously a great convenience–they can be found when different produce are not in season and readily available in their fresh form.  However, studies have shown that overall, frozen produce are also nutritionally comparable to their fresh counterparts, another reason to stock up on frozen fruit and veggies!  In case you're not familiar with using frozen produce, I've gathered a few recipes that specifically use frozen fruit and/or veggies.
California Blend Vegetable Casserole is a really flavorful side dish and simple to make.  California blend veggies contain broccoli, sliced carrots, and cauliflower.  In addition to the veggie blend, you'll add chopped onion, melted butter, mayonnaise, sour cream, salt, and garlic pepper. You'll fold in crushed Ritz crackers and shredded cheddar cheese and put in a well oiled casserole dish.  Bake at 400°F for 30-40 minutes until vegetables are tender and cheese is melted.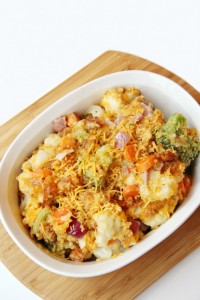 Courtesy of Bitz n Giggles
This version of Vegetable Soup uses a nice blend of fresh and frozen veggies.  You'll use fresh garlic, onion, carrots, celery, potatoes, and parsley, but then also add frozen peas, green beans, and corn.  Add vegetable broth, canned, diced tomatoes, and additional spices like thyme and bay leaf for flavor.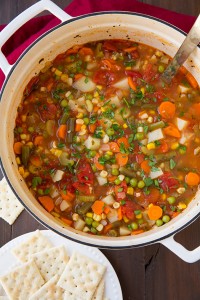 Courtesy of Cooking Classy
When it comes to smoothies, frozen fruit is always your friend.  This Berry Green Smoothie uses frozen blueberries, frozen raspberries, fresh banana, fresh spinach, milk, old fashioned oats, and sugar to taste.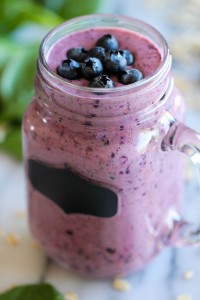 Courtesy of Damn Delicious
Fruits & Veggies–More Matters has a few more delicious recipes using frozen fruit and vegetables, including a wonderful dinner entrée of Penne Shrimp and Broccoli.  I'll be back next week with some healthy spring meal ideas as we move to a new season.
See all posts