We tend to associate apricots with the summer months, but while you can also find fresh apricots during the winter in your grocery store, dried apricots are wonderful additions to many recipes.  Dried apricots are packed with flavor and very nutritious–an excellent source of vitamin A, as well as a good source of fiber and potassium.  These fruits are sold pre-packaged and can be stored in an airtight container for up to three months.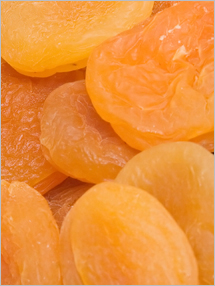 Courtesy of Fruits & Veggies–More Matters
Slow Cooker Apricot Chicken is a savory sweet main dish meal that uses your crock pot (an extra bonus!) so that there is minimal effort.  Skinless chicken thighs, chicken broth, olive oil, the zest and juice of one lemon, Dijon mustard, garlic cloves, dried thyme, sliced onion, dried apricots, and salt/pepper to taste are what you'll need for this delicious dish.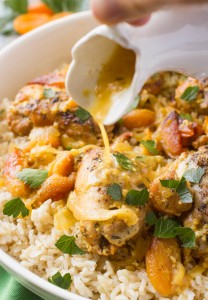 Courtesy of Family Food on the Table
Wild Rice Salad with Cranberries, Apricot, and Avocado is a hearty side dish that's perfect for the cooler months.  It's packed with a variety of flavors and textures that you'll love.  Wild rice, tangerine sections, avocado, parsley, pecans, dried cranberries, dried apricots, shallot, olive oil, red wine vinegar, Dijon mustard, honey, and salt is what you'll need for this dish.  You'll serve it at room temperature.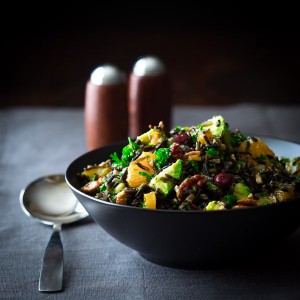 Courtesy of Healthy Seasonal Recipes
If you want to incorporate fresh apricots into your menu, you can't beat Roasted Apricots with Ricotta and Honey at any time of year.  You'll place halved apricots on a baking sheet and sprinkle them with thinly sliced garlic and sprigs of fresh oregano.  Drizzle with olive oil and sea salt, then place them in a 425°F oven for 15 minutes.  Spoon ricotta cheese over the roasted fruit and drizzle with honey.  Serve.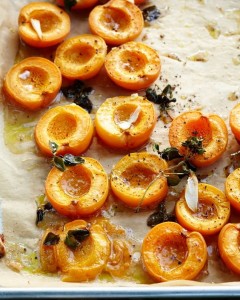 Courtesy of Kitchen Repertoire
Enjoy and I'll return next week with the latest food trends for 2017.
See all posts