December is National Pear Month and there is no better time to enjoy this delicious fruit. Fall and winter are the seasons that pears are at their peak flavor (and best price!), so scoop up some some savings and great taste the next time you visit your supermarket.  While most of us are very familiar with the common signature Bartlett pear–noted for its green/yellow appearance and juicy flavor (great for snacking!), there are a few other pear varieties in season right now, which are just as delicious.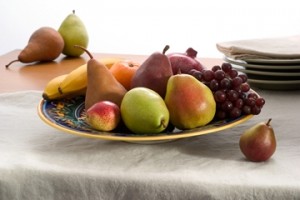 Photo courtesy of USAPears
Green Anjou – An all-purpose pear that makes it ideal for snacking, baking or adding to salads.  The color of this pear remains green while ripening so check the neck of the pear to see when it's ready.
Red Anjou – Red Anjour pears have similar textures to Green Anjou pears and can be used the same way.  Their color adds a "pop" to salads or desserts.
Red Bartlett – Similar to their green counterpart, the Red Bartlett is sweet, juicy and perfect for snacking.  These pears turn a bright red as they ripen.
Bosc – Bosc pears can be easily identified by their long, tapered necks and brownish skin.  These pears are terrific for both eating as well as cooking.
Comice – Comice pears have a full shape and short neck.  They are most often green and can have some red spots.  They have a mellow sweetness that makes them ideal for pairing with cheese.
Concorde – Concorde pears are known for their long necks and firm, dense flesh.  The skin is golden green and holds up well in cooking.  This pear is also good for snacking.
 Aside from the flavor of this fruit, pears are a great source of dietary fiber, as well as a good source of Vitamin C–even more reason to add them to your daily diet!  Fruits & Veggies–More Matters has put together their Top 10 Ways to Enjoy Pears.  From poaching to chutney …there's something you'll find on this list you'll be sure to love.  I went digging myself and found a few recipes that feature pears that were different than the usual cobbler/muffin spin, I thought I'd share.
This Pear, Pomegranate and Spinach Salad is perfect for your holiday table.  Just look at those colors, not to mention the healthy ingredients!  Baby spinach, sliced pears, dried cranberries, pomegranate, chopped walnuts and feta cheese make up this savory salad.  A homemade dressing of olive oil, apple cider vinegar, honey and dijon mustard finish this off.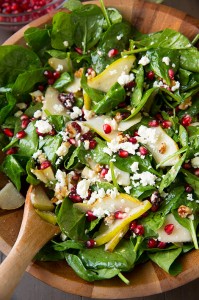 Photo courtesy of Cooking Classy
Check out this Pear, Walnut and Blue Cheese Artisan Pizza .  I love that it uses a whole wheat crust (there is a link for the crust recipe as well). Fresh mozzarella, sliced pears, onions, chopped walnuts and a bit of arugula make this a simple, but flavorful topping.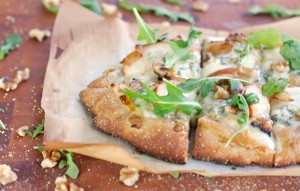 Photo courtesy of 2 Teaspoons
Enjoy and I'll be back next week with a look at one of the latest buzzwords …exactly what is "clean eating?"
See all posts