April 12th is National Grilled Cheese Sandwich Day (yes, there really is a food day for every taste!).  That being said, why cook a plain grilled cheese when there are so many interesting options available?  Including various veggies (and some fruit) will really liven up your sandwich with some texture and extra flavor, not to mention adding more nutrition to your meal.  I've pulled together a few options that were particularly appealing.
Sun Dried Tomato Spinach Grilled Cheese uses sourdough bread, provolone cheese, pesto sauce, fresh spinach, and sun dried tomatoes for its ingredients.  You'll also want to use some olive oil on the bread before grilling.  Spread the pesto sauce on the bread, place the cheese on top, and assemble the spinach and sun dried tomatoes inside.  Grill the sandwiches 2-4 minutes on each side, until browned and serve while they are still warm.

Courtesy of Eat Good 4 Life
This Loaded Veggie Grilled Cheese will take a little more time to prepare than the typical grilled cheese recipe, but it's worth the effort.  You'll use your favorite kind of bread and cheese–this version used white bread cheddar.  Add homemade guacamole, onion, fresh spinach, tomato, and mushrooms.  You'll prepare the veggies in advance of adding them to your sandwich, then assemble them and grill the sandwich (with the cooked veggies inside).  You can add or omit veggies you prefer or don't like to this recipe.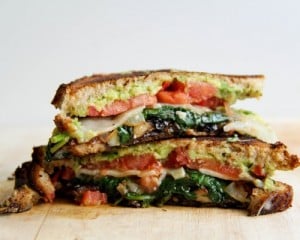 Courtesy of The Dreaming Foodie
Margherita Grilled Cheese will be a favorite of yours if you love Caprese salad.  You'll use Italian bread, garlic, mozzarella cheese, plum tomato, fresh basil, olive oil, and garlic pepper seasoning.  Rub the bread with fresh garlic.  Assemble the sandwiches with cheese, fresh basil leaves, and sliced tomato.  Sprinkle with some of the garlic pepper seasoning.  You'll want to brush the outside of the bread with olive oil and then sprinkle a little more garlic pepper season on the bread before grilling.  Cook 2-4 minutes on each side until browned and serve warm.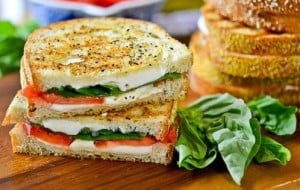 Courtesy of The Food Recipes Book
Grilled Cheese with Peach Bruschetta has a perfect blend of sweet and savory with a hint of heat.  This recipe calls for Chipolte cheddar cheese (although you can always use plain cheddar).  You'll make a peach bruschetta from fresh peaches, garlic, fresh basil leaves, olive oil, lemon juice, a bit of cayenne pepper (this gives it the spice), plus salt and pepper to taste.  Finally, you'll be using whole wheat bread and adding a few spinach leaves to your sandwich.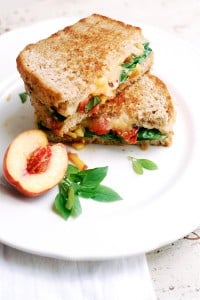 Courtesy of Brooklyn Supper
Have a terrific week and I'll be back next Monday with some tips on how to host the perfect Pot Luck supper.
See all posts