This coming Sunday is Father's Day and we all want to do something special for dad.  This year, instead of taking dad out to dinner, why not cook him something he'll love?  Let's face it–most dads will appreciate a home-cooked meal more than something he'll get out and this way he can kick back and relax in his favorite chair while you prepare dinner (plus he doesn't have to put on a tie!).
A lot of men are typical meat and potatoes guys so I'm going to provide a meal based on that theme, but really spice it up and make it a healthier version.  Trust me–dad won't know the difference, all he'll know is that he's having a delicious dinner that you prepared for him.
We'll start with the "star" of our dinner, the main entree.  It is summer and grilling is a perfect way to cook this time of year.  Plus, most dads LOVE having their steak cooked on the grill.  Rather than just throwing a sirloin on the grill, I've got a recipe for Grilled Steak Kabobs with Mango.  You use sirloin tips and add chunks of mango, red pepper and red onion.  The kabobs are brushed with a marinade of dijon mustard, olive oil, balsamic vinegar, red wine vinegar and other spices.
It's time to rethink your idea of potato salad.  Forget the fatty mayonnaise and check out this recipe for Grilled Potato Salad.  Again, using the grill, you grilled sliced red skin potato slices and then toss with red peppers, olives, grape tomatoes, chopped green onions and fresh parsley.  Add a flavorful dressing of olive oil, dijon mustard, vinegar, oregano, salt and pepper and you've got a delicious side dad will love!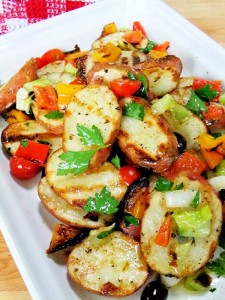 Nothing beats fresh strawberries right now and this Roasted Strawberry Parfait recipe is both delicious and simple. The only ingredients are strawberries, Greek yogurt, brown sugar, honey and granola.  Best of all, it will take all of 8 minutes to pepare and 12 minutes to cook!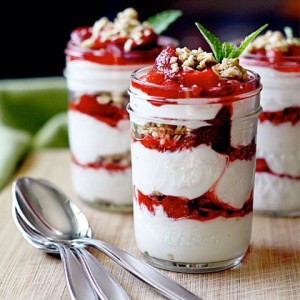 I hope you'll give these ideas a try this Father's Day.  Who knows, you just may end up being dad's favorite "chef" after this meal!
See all posts