We've officially entered the holiday season and that means your weeknights have gotten a little more hectic.  Added into the usual after work/after school frenzy is holiday shopping, holiday parties and gift wrapping.  Instead of being tempted to reach for the take-out menu, I've got a terrific one-pot recipe that is perfect for the season!  Meatball Minestrone is ideal for a chilly December evening and what's even better is that you can throw this meal together in a snap.  Another thing I love about it is that it incorporates all forms of vegetables, making it very budget-friendly.
Try this healthy meal–even my two teens love it.  Just add a loaf of crusty Italian bread and a side salad and you've got yourself a healthy dinner.  I'm sharing my version of the recipe, but I encourage you to add your own favorite veggie ingredients to make it your own healthy version.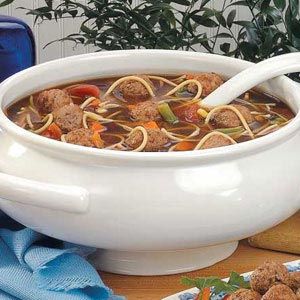 Meatball Minestrone
Ingredients
10 cups of vegetable, chicken or beef broth
1 medium onion, diced
1 cup diced carrots
1/2 cup sliced celery
1 can petit diced tomatoes
1/2 cup frozen peas
1 can garbanzo beans, drained
1 bay leaf
1 teaspoon dried basil
3/4 cup dried pasta (I use mini shells or ditalini)
24 cocktail size, cooked turkey meatballs
Salt and pepper to taste
In a large pot bring the broth with the onion, carrots, celery, basil and bay leaf to a boil.  Simmer until the veggies are crisp-tender.  Add tomatoes and bring back to a boil.  Add pasta and when pasta is tender, add garbanzo beans, meatballs and frozen peas.  Heat through about 10-15 minutes and serve.  Makes 10-12 servings.
See all posts