When you think of eating at the beach, you probably think of packing a few sandwiches in a cooler, right?  Recently, I joined a bunch of friends at the beach where you can surf fish.  This means you can also drive up on the beach and use gas grills–a big bonus.  Forget about snack foods and sandwiches …this group had a major cookout going on.  Chicken kebabs, grilled veggies, and corn on the cob, just to name a few of the items served.  A lot of state park areas at the beach allow surf fishing where you can drive up on the beach.  You'll need to have the proper permit, but it's easy to obtain, check with your local or state agency to find out where to get one.
Being able to grill on the beach, as well as having more room to set up a tent and tailgate, allows you the ability to serve a wider variety of food than the traditional beach fare.  Let's start with this Greek Orzo Salad. Make it ahead of time and put it in a container in the cooler, ready to be served once you get to the beach.  It contains orzo, feta cheese, cucumber, grape tomatoes, black olives, red onion, fresh basil, and fresh parsley.  It's topped with a dressing made from olive oil, lemon juice, garlic, and salt/pepper.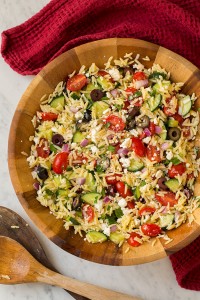 Courtesy of Cooking Classy
Spicy Grilled Shrimp Tacos can partially be prepared ahead of time.  Marinate your shrimp in advance and place in a sealed container and place in your cooler so they are ready to be grilled when you arrive at the beach.  You'll create the simple slaw in advance by combining cole slaw mix with onion, olive oil, honey, lime juice and a little salt and pepper.  Let this marinate together for at least an hour. Bring to the beach in a sealed container.  Make your own guacamole in advance by mashing an avocado and adding onion, garlic, jalapeno, lime juice, cumin, and salt and pepper.  Once you've grilled your shrimp you're ready to assemble your tacos (you can use either corn or flour tortillas).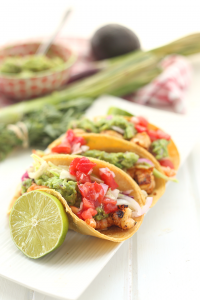 Courtesy of The Healthy Maven
Fajita Chicken Kebabs combine marinated chicken and fresh veggies together on the grill.  You'll marinate your chicken ahead of time (the marinade is made from canola oil, lime juice, chili powder, cumin, garlic, jalapeno, and salt) and place in an airtight container in your cooler until you reach the beach and are ready to place on the grill.  Cut your veggies such as bell pepper and red onion into large chunks ahead of time and put into a zip lock bag for transporting to the beach.  Thread the chicken and veggies onto skewers and place on your grill for 6-8 minutes, rotating half way through the cooking time.  Make sure the chicken is cooked evenly and all the way through.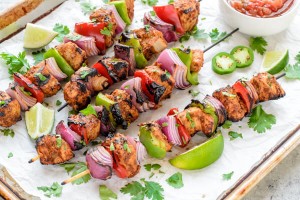 Courtesy of Well Plated
Enjoy and next week I'll return with some different ideas for cole slaw recipes.
See all posts