Fall is here and the cool breezes and colorful leaves are on their way! It's time to start cooking up some delicious fall favorites for your family, from warm soups to hearty dinners to sweet apple and pumpkin desserts. We've pulled together some of our favorite recipes to celebrate fall. You'll find ideas for packed lunches, dinner entrees, sweet snacks, and even classic drinks like mulled apple cider. Which one will be your favorite autumn dish?
Mulled Cider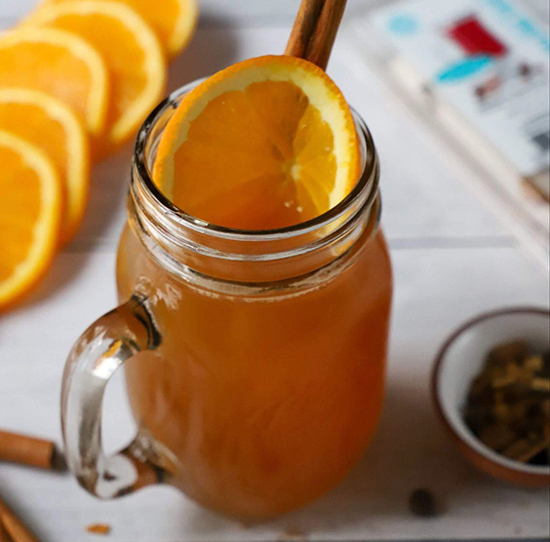 Before the Pumpkin Spice Latte craze, there was another classic fall beverage: apple cider! This beloved drink is still one of our favorite ways to celebrate fall. Amplify this drink with a That's Tasty mulling kit for the epitome of fall drinks.
Get the recipe for Mulled Cider here!
Smoothies That Taste Like Fall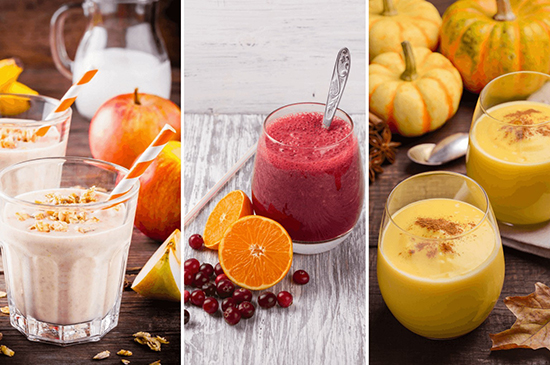 As soon as fall arrived, we jumped right on that pumpkin spice bandwagon. But we also love the other fruity flavors autumn offers, like apple and cranberry. We came up with three delicious smoothies that are perfect for a crisp fall day.
Get the recipes for Pumpkin Spice, Caramel Apple, and Cranberry Citrus smoothies here!
Air Fryer Apple Fritters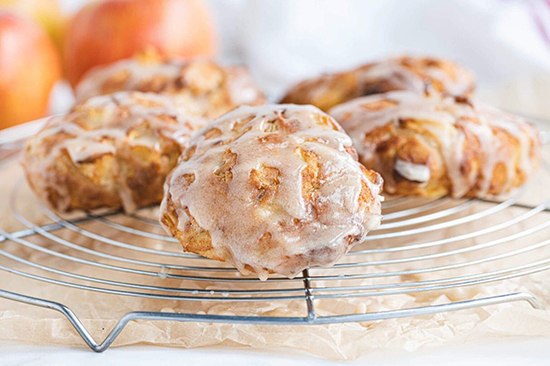 Nothing brightens up a fall day like a warm pastry for breakfast. Fry up some down-home sweetness with these Air Fryer Apple Fritters! These delightful fruit-filled pastries are fluffier and more flavorful than anything your grocery store's bakery can offer.
Get the recipe for Air Fryer Apple Fritters here!
Grandma Gray's Apple Hash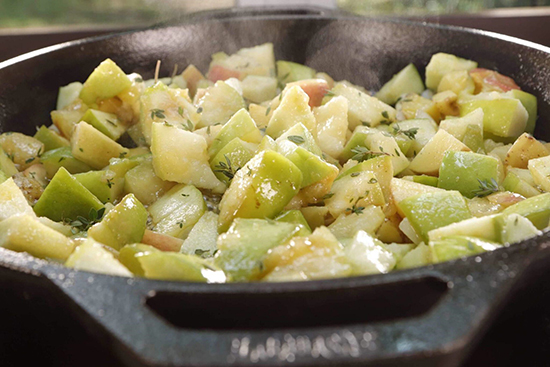 Apples are in season, so why not try them for breakfast with a tasty apple hash? You could even prepare it over a campfire for a hot, fresh meal on a fall family camping trip! We prepared it using a cast-iron skillet for the fullest flavor possible, but any medium-depth skillet will do.
Get the recipe for Grandma Gray's Apple Hash here!
Butternut Squash Bisque With Jalapeño Crema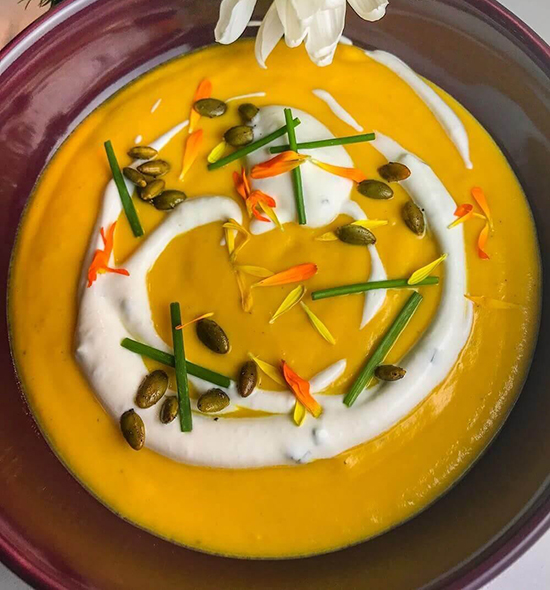 A delightful, refreshing bisque is the sort of recipe you can come back to year after year. This butternut squash bisque is both elegant and crowd-pleasing, versatile and one-of-a-kind.
Celebrate fall and start your meals off with this tasty, spicy dish!
Get the recipe for Butternut Squash Bisque with Jalapeño Crema here!
Crockpot Sweet Potato Soup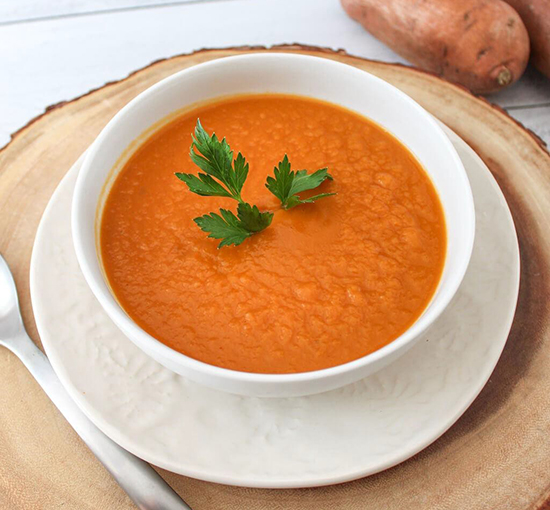 Sweet potatoes are a fall flavor we can't get enough of. They have a rich flavor and are stuffed with nutrition, making them an excellent addition to any meal. Crockpot Sweet Potato Soup is easy, delicious, and will keep you warm even on the chilliest autumn days.
Get the recipe for Crockpot Sweet Potato Soup here!
Slow Cooker Potato & Ham Soup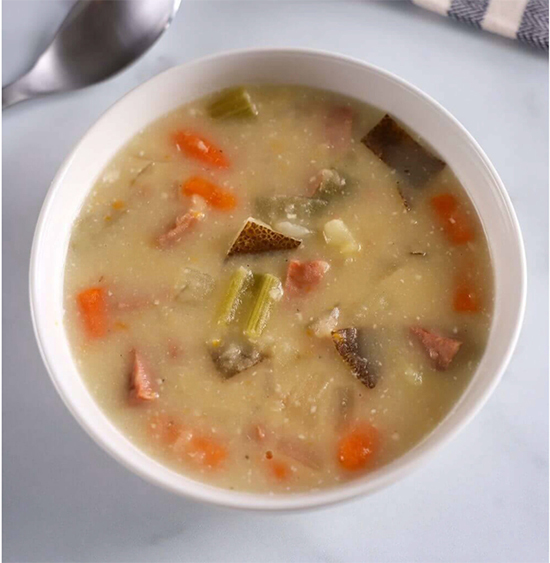 When we think of a savory meal that warms us right up, one comes to mind before any other: soup! Here's a recipe that will warm you from your head to your pota-toes. This Slow Cooker Potato and Ham Soup is perfect for packing in lunches or serving for dinner.
Get the recipe for Slow Cooker Potato and Ham Soup here!
Crockpot Apple & Pulled Chicken Pita Sandwiches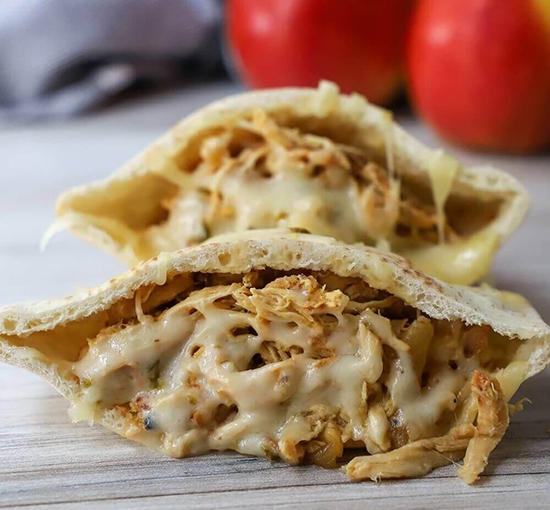 We're pushing our creativity to the limit with ways to take advantage of apple season and celebrate fall. If you want an easy, unique, and tasty lunch or dinner you can eat with your hands, look no further than these Crockpot Apple and Pulled Chicken Pita Sandwiches.
Get the recipe for Crockpot Apple and Pulled Chicken Pita Sandwiches here!
Sweet Kale, Turkey & Cranberry Sandwich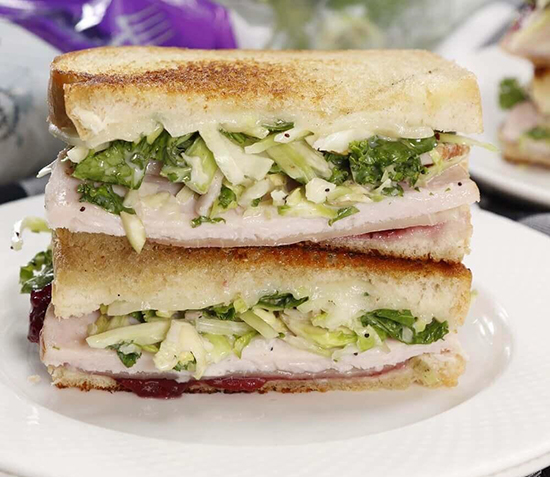 This sandwich is designed to help you make the most of your Thanksgiving leftovers later this fall, but it doesn't have to wait until the holidays! Use an Eat Smart® Sweet Kale salad kit to make this delicious sandwich.
Get the recipe for Sweet Kale, Turkey and Cranberry Sandwich here!
Sweet Potato & Salmon Sheet Pan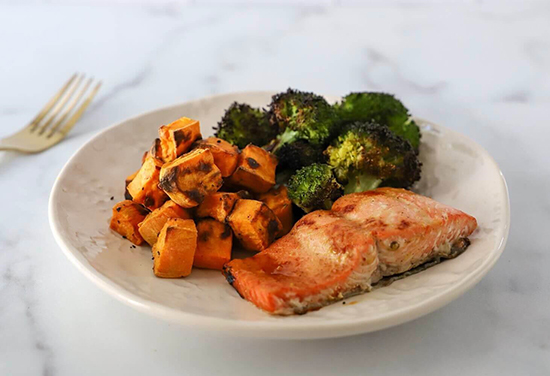 As the weather cools off, your family will appreciate a hearty, lively, flavorful meal on cold, dreary nights. Sheet pan meals make preparation a snap. So fend off the cold with this hot and delicious Sweet Potatoes and Salmon Sheet Pan!
Get the recipe for Sweet Potato and Salmon Sheet Pan here!
Sausage & Potato Sheet Pan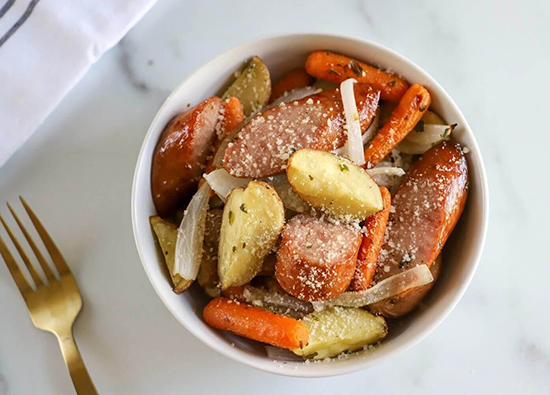 Here's another hearty sheet pan meal that's easy and quick to prepare. This simple savory meal is filled with nutritious ingredients including sausage, potatoes, onions, and carrots. Serve it in a bowl or over brown rice for dinner or cook it up and pack it in lunches for your family to take to work and school.
Get the recipe for Sausage and Potato Sheet Pan here!
Instant Pot Chicken & Potatoes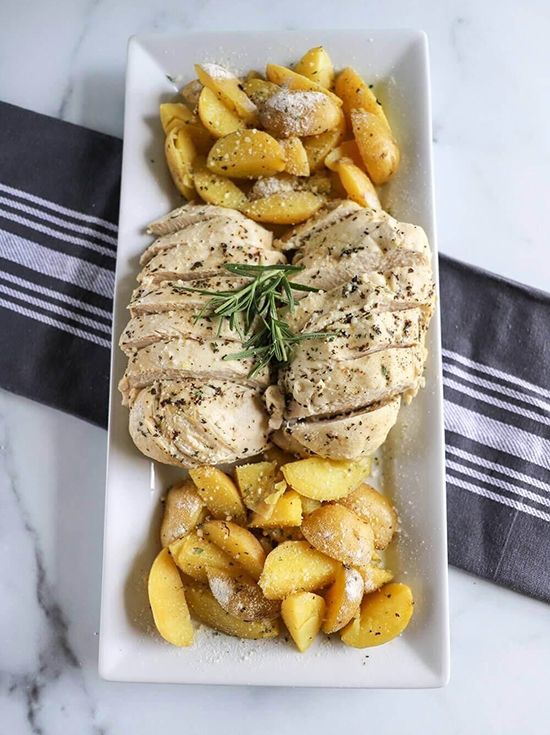 Even those of us working from home find ourselves with hardly a free moment to fix up a hot dinner. That's why we love our instant pot – it makes dinner so much easier! This Instant Pot Chicken and Potatoes recipe is perfect for those nights when your family is home from a busy day and hungry for a filling, delicious meal.
Get the recipe for Instant Pot Chicken and Potatoes here!
Sweet & Savory Pear Air Fryer Empanadas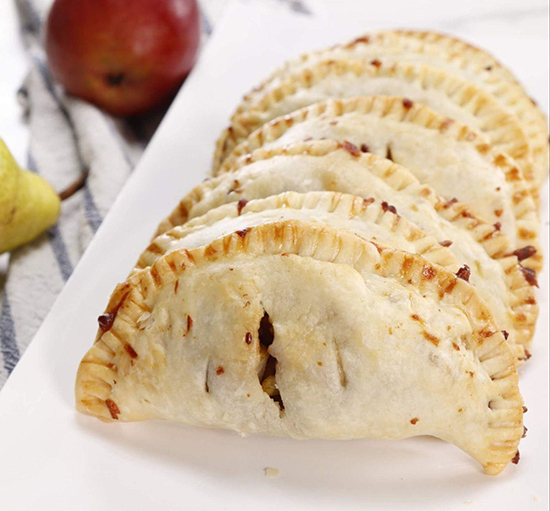 These versatile turnovers will be a hit no matter when they're served. Snackable, dippable, and irresistible, empanadas are a fried delight – and are even easier to make using an air fryer.
Savory Sausage and Pear Empanadas make a great snack, appetizer, or entree, while Sweet Cinnamon and Pear Empanadas are a tasty dessert. You can also serve them for breakfast! Get the recipe for Sweet and Savory Pear Air Fryer Empanadas here!
Pumpkin Muffins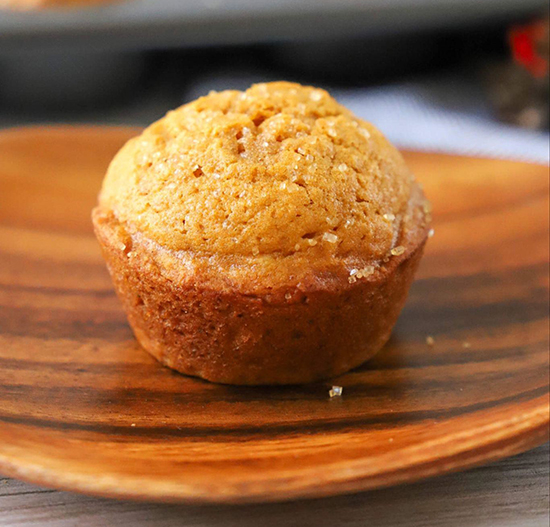 Pumpkin is the quintessential ingredient to celebrate fall. We just can't get enough of it! These muffins combine pumpkin and cinnamon to deliver big autumn flavors for dessert or a sweet snack. They're simply and understated, but deliver on that tasty pumpkin flavor we all crave. Get the recipe for Pumpkin Muffins here!
Air Fryer Apple Pies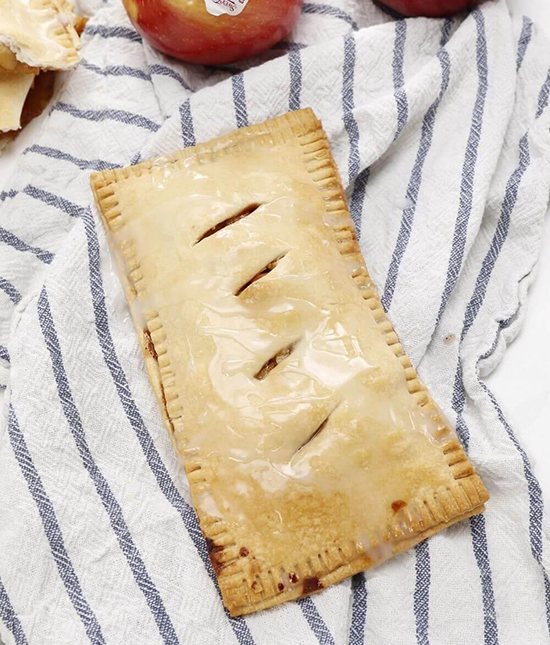 Our air fryer has become a staple in our kitchen. It's perfect for making family-favorite treats without soaking them in oil. These Air Fryer Apple Pies are the delectable homemade guilt-free alternative to the apple pie pockets you might find at fast food chains.
Get the recipe for Air Fryer Apple Pies here!
Bonus: Instant Pot Pumpkin Puree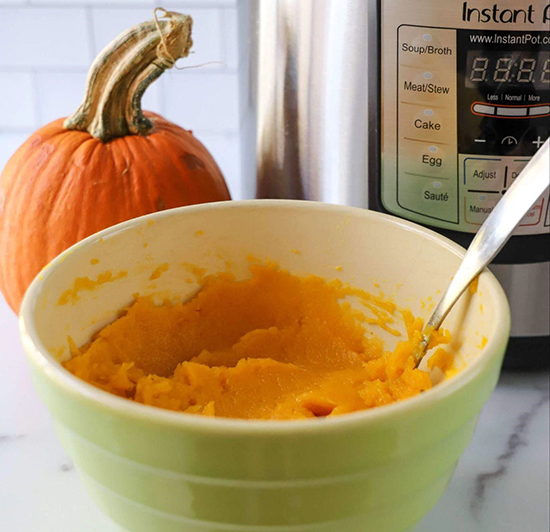 This may not be a standalone recipe, but it's a great way to add more pumpkin to your dishes without buying canned pumpkin. The best cooks and bakers know that fresh pumpkin puree can't be matched. Best of all, this recipe isn't just better than canned pumpkin – it's easy to prepare, too. Celebrate fall with more homemade pumpkin meals!
Get the recipe for Instant Pot Pumpkin Puree here!
Each fall, we make some of our favorite hearty and sweet recipes to enjoy the season's bounty. What are your favorite ways to use apples, pumpkins, and other fall produce in your meals? Is there an autumn meal your family loves to eat every year? Tell us in the comments, and don't forget to check out the Produce for Better Health Foundation when you #HaveAPlant!