These Banana Oatmeal Muffins are moist, healthy and oil free applesauce muffins with a delicious cinnamon banana flavor. Easy gluten-free muffins made with oat flour!
Instructions
Muffins have been on the top of my list lately. With wild and crazy boys, running a business from home all while trying to get dinner on the table… life is moving at warp speed. Do you guys feel that way too? Why can't time just slow down? They pretty much save the day because I can make a batch and freeze half of them to munch on later when I need a breakfast STAT but don't have time to make anything or a snack attack hits but I've got to run out the door for a meeting.
Preheat oven to 350 degrees F, and line 12 count muffin tin with high quality foil muffin liners.
In large bowl, whisk together bananas, eggs, applesauce, vanilla.
Add oats, ground flaxseed, baking soda, salt and cinnamon to the bowl and stir to combine.
Spoon batter evenly into 12 muffin cups; Bake 15-18 minutes, until toothpick inserted into muffin is clean.
Recipe Notes:
What to pair with these healthy banana muffins you ask? Almond Butter (or nut butter of choice).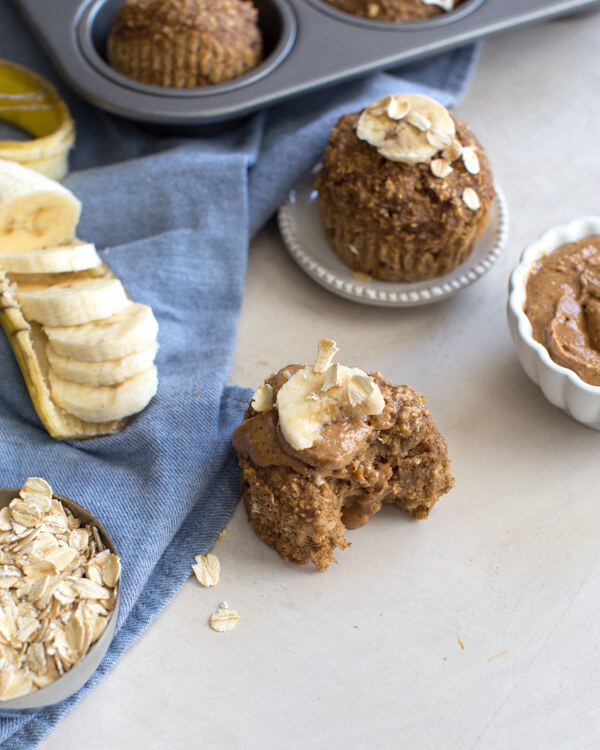 Because these healthy banana oat muffins are oil free thanks to the applesauce, they can use a little healthy fat– thus a thick smear of nut butter does the trick and makes them super satisfying.
Oh and if you love yourself some chocolate like me, go on girl and sprinkle some of those choco chips on top of these banana oatmeal muffins, or add them to the batter if you wish. You won't regret it.
Credit:
Photos and recipe courtesy of Kristina LaRue of Love & Zest.