Press Releases
Produce For Better Health Foundation Recognizes 2020 Members, In-Kind Supporters & Influencer Volunteers For Their Commitment To Improving Consumption In America
CONTACT:
Katie Calligaro, Marketing & Communications Director
Produce for Better Health Foundation
[email protected] 
412-848-1644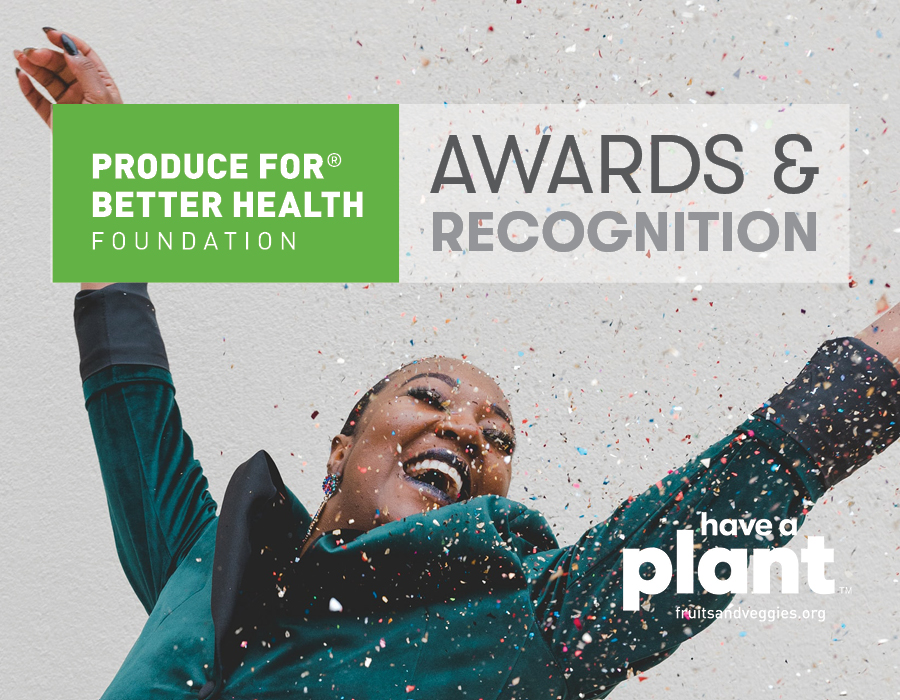 February 1, 2021 – The Produce for Better Health Foundation (PBH) wants to recognize those who demonstrated their commitment to improving fruit and vegetable consumption – one of the industry's most complex and challenging issues – in 2020, during one of the most unique years in American history. In a year that presented uncertainties for all, industry challenges, consumer fears and confusion as well as a heightened emphasis on health and well-being, PBH's members, influencers, partners and supporters were able to rise up and deliver hope and inspiration with the world's most precious plants – fruits and vegetables.
"As we swiftly move into 2021, we wanted to recognize the unwavering commitment of the PBH Board of Trustees, executive officers, ambassadors, supporters and partners," says Wendy Reinhardt Kapsak, MS, RDN, President & CEO of PBH. "Those who supported consumption, whether it was through their direct monetary or in-kind contributions to PBH, or those who volunteered their time to create content that drove positive changes in fruit and vegetable consumption behaviors, all should be recognized."
2020 PBH Members
PBH would like to recognize every single one of its 2020 Members for their contributions, which clearly demonstrate their commitment to advancing fruit and vegetable consumption in America. As a 501(c)3 non-profit organization, every single dollar counts when it comes to funding research necessary to impact consumption behaviors; implementing live and virtual influencer education and training; and reaching millions of consumers with daily fruit and veggie inspiration through our award-winning Have A Plant® Movement and corresponding digital ecosystem, including fruitsandveggies.org, our newsletters and social media channels.
"Our Members are truly the magic behind the Have A Plant® Movement, and their commitment to fruit and vegetable consumption during a challenging year will certainly make an everlasting impact," says Sharese Roper, Member Engagement Director of PBH.
Specifically, PBH would like to recognize the following individuals and organizations for serving as fruit and vegetable consumption change agents in 2020:
2020 PBH Executive Officers
Bil Goldfield, Chairman of the Board
Dole Food Company, Inc.
Matt Middleton, Vice Chairman of the Board
Ventura Foods
CarrieAnn Arias, Secretary and Treasurer
Naturipe Farms, LLC
Roger Pepperl, Serving Past Chairman
Stemilt Growers, LLC
Lead The Change 2020 Research Contributors
American Frozen Food Institute
American Beverage Association
Bayer
California Avocado Commission
California Walnut Board and Commission
Chelan Fresh
Del Monte Foods, Inc.
Del Monte Fresh Produce N.A., Inc.
Dole Food Company, Inc.
Dole Packaged Foods, LLC
Duda Farm Fresh Foods, Inc.
Florida Fruit and Vegetable Association
HZPC Americas Corp.
Juice Products Association
Kellogg Company
Naturipe Farms, LLC
Potatoes USA
Produce Marketing Association
Red Sun Farms
Robinson Fresh
Seneca Foods Corporation
Stemilt Growers, LLC
Sunkist Growers, Inc.
Sun-Maid Growers of California
The Wonderful Company
United Fresh Produce Association
Ventura Foods/Marie's
Western Growers
PBH would also like to recognize industry and well as its influencer Ambassadors for their in-kind support of PBH and helping us connect the produce industry directly with consumers and influencers.
"PBH remains steadfast in its commitment to being the partner of choice for extending marketing dollars to reach consumers and influencers directly," says Katie Calligaro, Marketing & Communications Director of PBH.
"The fact that the Have A Plant® Movement reached more than 700 Million consumers in 2020—tripling its reach since its inception in 2019—demonstrates that the message is resonating, and we couldn't have done this without the support of our media partners, influencer volunteers and industry colleagues helping us spread the #haveaplant love."
2020 Industry In-Kind Supporters
Blue Book Services, Inc.
Google Ads
Joe Produce
Produce Business
Southeast Produce Council
The Packer
The Produce News
United Fresh Produce Association
2020 PBH Fruit & Vegetable Ambassadors in Action (FVAA) Network Volunteers
Joan Salge Blake, Dr. Joan Salge Blake – SpotOn! Podcast
Leslie Bonci, Active Eating Advice
Kristen Carli, Mostly Green
Neva Cochran, Eating Beyond the Headlines
Beau Coffron, Lunchbox Dad
Stephen & Elise Compston, Straight Outta Compston Kitchen
Andrew Dole, Body Fuel
Mandy Enright, Mandy Enright The Food and Movement Dietitian
Abbie Gellman, Chef Abbie Gellman
Cara Harbstreet, Street Smart Nutrition
Dayle Hayes, School Meals That Rock
Kelly Jones, Kelly Jones Nutrition
Andrea Mathis, Beautiful Eats and Things
Megan McCarthy, Edible Garden Chef/Founder of Healthy Eating 101
Nicole Rodriguez, Enjoy Food Enjoy Life
Sarah Schlichter , Bucket List Tummy
Kelli Shallal, Hungry Hobby
Lori Taylor, The Produce Moms
Jonathan Valdez, Genki Nutrition
Manuel Villacorta, Manuel Villacorta
Elisabeth Watkins, Farm Girl Chef
Liz Weiss, Liz's Healthy Table
PBH also created unique partnerships in 2020, which advanced the Have A Plant® Movement by bringing consumers real solutions to eating more fruits and vegetables with other powerful nutrient-rich foods, like beef, dairy and eggs. In addition, aligning with like-minded third-party organizations with similar goals also advanced the fruit and vegetable consumption narrative focused on eating more for better health and happiness.
PBH would also like to recognize the following organizations for their partnerships in 2020:
Brighter Bites
Egg Nutrition Center (ENC)
FMI Foundation and the Family Meals Movement
MyPlate – United States Department of Agriculture(USDA)/Food and Nutrition Services (FNS)/Center for Nutrition Policy and Promotion (CNPP)
National Cattleman's Beef Association (NCBA)
National Dairy Council (NDC)
For more information about how to partner with PBH, how to become a member or simply how to make a charitable donation that can help advance fruit and vegetable consumption in America, contact Sharese Roper, Member Engagement Director at PBH.