Press Releases
Produce For Better Health Foundation Delivers Unique Solutions To The Most Common Marketing Challenges Of Our Uncertain World
CONTACT:
Katie Calligaro, Marketing & Communications Director
Produce for Better Health Foundation
[email protected]
412-848-1644
Produce for Better Health Foundation Delivers Unique Solutions To The Most Common Marketing Challenges Of Our Uncertain World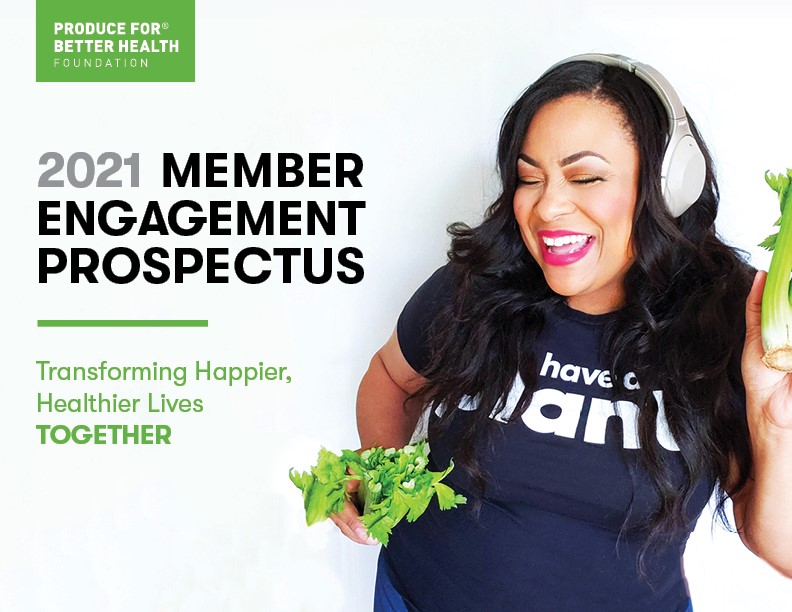 March 4, 2021 – The Produce for Better Health Foundation (PBH) released its new 2021 Member Engagement Prospectus offering expanded opportunities to promote fruits and vegetables to our nation's largest – and perhaps most vulnerable – population of Gen Z and Millennial consumers, along with the influencers who reach them. According to the PBH's recent State of the Plate research, this age group, along with most Americans, continues to fall short on eating enough fruits and vegetables each day despite the industry's efforts to improve consumption in America. Something has got to give.
"As we continue to navigate this uncertain world in which many Americans seek to improve their overall health and well-being, we must find unique ways to connect with consumers directly, while leveraging the influencers who reach them," says Wendy Reinhardt Kapsak, MS, RDN, President & CEO of PBH. "I am certain the industry will be pleased with our new offerings that drive deeper emotional connectivity with the fruit and vegetable eating experience."
PBH's 2021 Member Engagement Prospectus includes proven marketing tactics, educational platforms, and advertorial strategies such as:
Signature Events: PBH's signature events span four points of influence: point-of-sale (retail), point-of-flavor (culinary/foodservice), point-of-inspiration (nutrition and lifestyle digital communicators) and point-of-awareness (media). The PBH event platform includes two new events this year: The Media Meet-Up in the Spring and the Have A Plant® Nation Virtual Influencer Event in the Fall.
Influencer Engagement: Reach and engage with PBH's expanded Have A Plant® Ambassador Network through unique influencer engagement tactics including, monthly Have A Plant® Cook Alongs, private roundtable discussions, direct promotional mailings, dedicated email blasts, educational webinars, and more!
Retail Promotions: Offerings include comprehensive retail activations, seasonal digital toolkits for retail dietitians, topic-driven retail signage campaigns, as well as an exclusive Coborn's E-Commerce promotion with shoppable recipes.
Digital and Social Media Marketing: Own the moment with a full takeover of PBH's digital ecosystem, which includes a surround-sound approach to reach millions. This offering includes special content promotion packages, a series on www.fruitsandveggies.org, expert and retail dietitian authored editorials, including one penned by PBH's President & CEO of PBH Wendy Reinhardt Kapsak, as well customized social media posts with a PBH Have A Plant® Ambassador.
Celebratory Packages for National Fruits & Veggies Month: In 2020, the Have A Plant® Movement reached more than 75 million people in September alone, thanks to the National Fruits & Veggies Month hype. This year we'll be offering exclusive sponsorships to secure space in PBH's digital ecosystem during this heightened time when fruits and veggies are front and center.
"In 2021—the International Year of Fruits and Vegetables—PBH and our members are poised for success in the digital space where consumers are looking for information and craving inspiration," says Sharese Roper, Member Engagement Director of PBH. "As a member-driven organization, we have a fierce desire to showcase innovative companies and position delicious, plant-forward products as solutions in reversing America's fruit and vegetable consumption crisis."
To take advantage of PBH's enhanced marketing offerings, download the newly released 2021 Member Engagement Prospectus and join us at the intersection of passion and produce!
For more information about how to partner with PBH, how to become a member or simply how to make a charitable donation that can help advance fruit and vegetable consumption in America, contact Sharese Roper, Member Engagement Director at PBH.