Contributing to Produce for Better Health Foundation (PBH) goes beyond philanthropy. As the only national 501(c)3 non-profit organization elevating fruit and vegetable consumption behaviors as a national priority, your support and engagement will have an everlasting impact, and will uniquely demonstrate your commitment to America's health and happiness.
Be the MAGIC behind The Movement.
PBH Membership provides access to member-exclusive research and consumer insights, thought leadership platforms, and business-boosting engagement opportunities that directly connect you with consumers and influencers. Our membership packages turn your special moments into momentum with complimentary digital, social media, and advertising benefits. Here at PBH, we celebrate Members FIRST – delivering holistic and synergistic engagement for companies who care.
TOGETHER, we are helping people live happier, healthier lives by eating and enjoying more fruits and vegetables every single day. Join us.

To see our current portfolio of membership packages and engagement opportunities, download our Engagement & Education Opportunities below.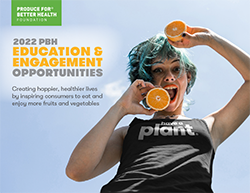 Download the 2022 PBH Engagement & Education Opportunities