Have A Plant® Cook Along With Robin Plotkin, RDN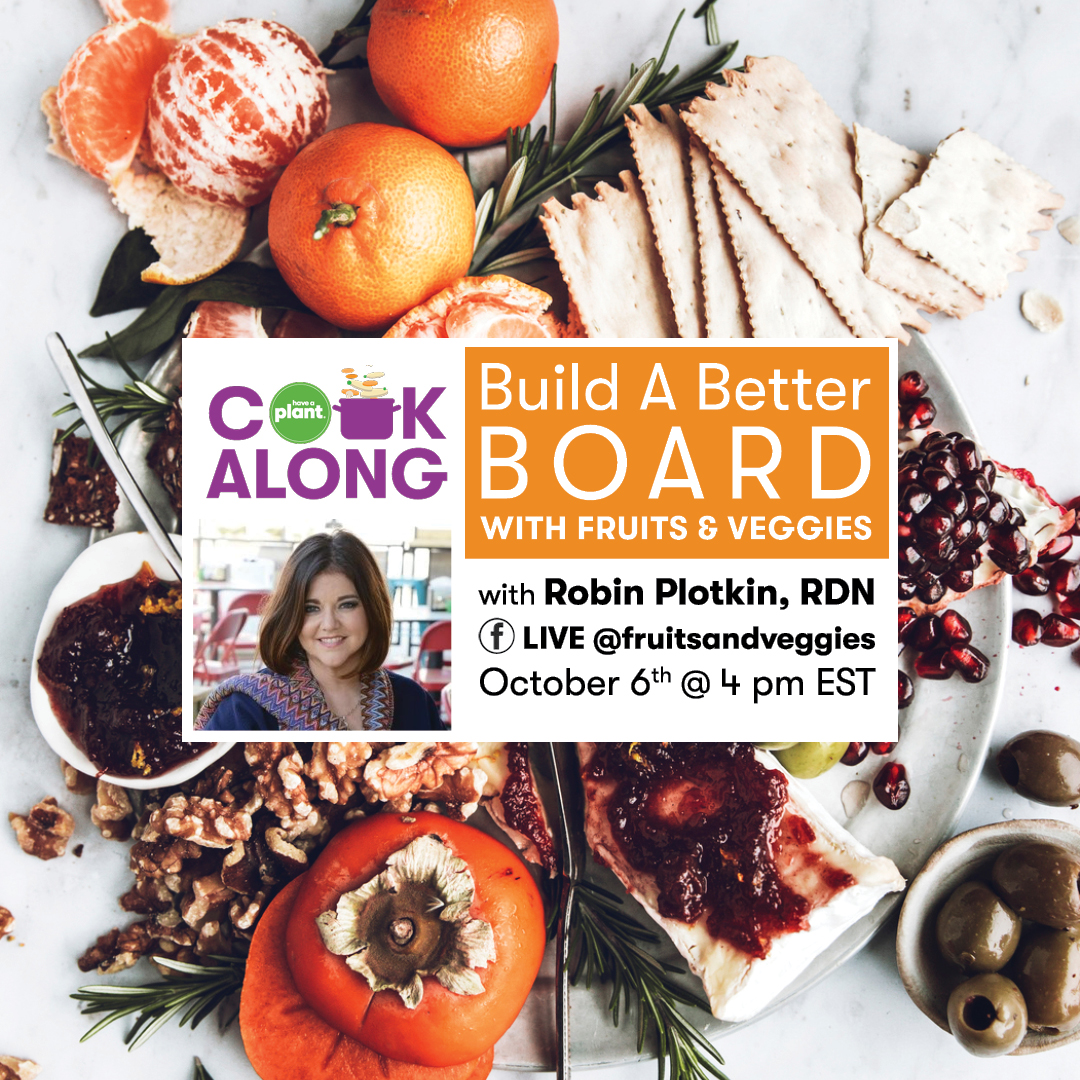 Join us LIVE on Facebook @fruitsandveggies on Wednesday, October 6th at 4:00 p.m. EST for a Have A Plant® Cook Along with Robin Plotkin, RDN.
Download the recipes and shopping list
Below, you'll find the equipment and ingredients you'll need to create a board for 4-6 people. Grab your favorite board and let's get going!
Tools & Equipment
Your favorite food-safe board for display
Cheese knife or small chef's knife
Paring knife
Cutting Board
Small juice glass or wine glass
Bowls or vessels to hold small items or items with liquid
Kitchen shears (optional)
Toothpicks (optional)
Ingredients
Cheeses (2-3 total)
1 ½ ounces per cheese person; for a 2-person board, 3 ounces of each cheese; for a 4 person board, 6 ounces of each cheese. Check the cheese section for a basket of "remnants" or "tiny tastes" for small amounts of cheese. Or ask the cheese monger to cut a smaller piece for you—they'll usually be happy to help.  Try to get a variety of textures:
Soft/runny cheese like brie or goat cheese log
Semi-soft cheese like Fontina or Muenster
Hard cheese like Cheddar, Gouda or Manchego
Crumbly cheese like blue cheese or Parmesan
* do not purchase any pre-sliced, pre-shredded or pre-cubed cheeses, if possible
* does not have to be exact sizes or varieties
Meats (1-2 total)
2 ounces of each meat per person; for a 2 person board, 4 ounces of meat for a 4 person board. Stop by the deli counter for these small portions and ask them to have them sliced for a charcuterie board. Again, try to get a variety of textures. Turkey, beef, smoked salmon and other protein sources may be substituted or added.
Thinly sliced prosciutto
Hard salami (any variety)
Saucisson
Sopressata
Calabrese
Mortadella
Chorizo
Smoked kielbasa
Pate
Fresh fruits (2-3 total)
When purchasing fresh produce, look for items with leaves, stems, vines to add more texture and dimension to your board.
Grapes (red, purple or green)
Mixed berries
Apples, pears
Mandarins or other citrus
Pomegranate (whole or seeds)
Any in season fruit
Exotic fruits
Fresh Vegetables (2-3 total)
Carrots (multi-color or baby, with or without tops)
Cucumbers (baby or regular)
Peppers (red, green, yellow, orange)
Cherry or teardrop tomatoes
Regular or baby cauliflower
Broccoli
Radish
Endive lettuce
Celery
Breads/crackers (1-2 total)
Choose something sturdy for those items that are spreadable.
Baguette
Breadsticks
Water crackers
Seed, fruit and nut crackers
Flatbread crackers
Any artisanal crackers
Salty/Briney/Oily (1-3 total)
Amounts are up to you. Most of these items can be refrigerated for a few weeks after opening so you can use them for more than one board
Pickled vegetables (green beans, okra, asparagus, beets, etc.)
Olives: green, stuffed, marinated, Kalamata, black
Pickles: cornichons, dill, garlic, spicy (chips, whole, spears)
Roasted red peppers (stuffed or not)
Artichokes (marinated or packed in water)
Olive Tapanade
Sun dried tomatoes
Sweet (1-2 total)
Honey (with or without comb)
Jams, jellies, marmalades
Small chocolates
Candied dried fruit
Dried fruit (1-2 total)
Any berry
Coconut
Any citrus
Apples
Mango
Apricots
Figs
Dates
Nectarines
Extras
Fresh herbs and/or edible flowers
Mustards
Other condiments as desired
Dips for vegetables (hummus, ranch-style, garlic and herb, avocado, tzatziki, etc.)