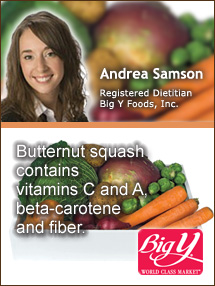 Since a good portion of my family is vegetarian, each Thanksgiving we put out a plethora of veggie-based offerings. While I look forward to the classic turkey and gravy, the star of the meal tends to be the delicious side dishes each relative brings to the table.

But whether you're carving into a traditional turkey or enjoying a tofurkey this Thanksgiving, let these seasonal produce selections inspire you to add color and nutrition to your harvest meal.

Carrots. Toss cooked carrots in orange marmalade and heart-healthy spread or flavor with fresh ginger and dates. Carrots provide an excellent source of vitamin A and are packed with carotenoids, antioxidants thought to promote vision and immune system health.

Potatoes. Bake, roast, mash or serve au gratin. Whatever your preference, potatoes are a staple Thanksgiving side. One medium potato with skin is equal to a one-cup serving of vegetables and is a source of numerous nutrients like potassium, vitamins B6 and C, fiber and iron.

Brussels Sprouts. If you haven't given Brussels sprouts a try, it's time. These little sprouts are delicious when sautéed in olive oil and sprinkled with a bit of lemon juice, salt and garlic powder. Just four sprouts provide folate, 120% the Daily Value for vitamin C, 3 grams of fiber and lutein, a potent antioxidant that may reduce risk for heart disease and certain cancers.

Turnips. While turnip root is a versatile cooking ingredient, don't forget the turnip greens! This portion is edible and quite delicious too. Like potatoes, turnips can be roasted, mashed or scalloped and provide vitamin C and fiber. Turnip greens contain folate and vitamin K and can be wilted down with olive oil and your choice of seasonings. For sweetest flavor select small to medium turnips.

Green Beans. Green bean casserole and green bean almandine are two classic preparations guests will truly appreciate at your Thanksgiving dinner. These crisp beans bring fiber, vitamin C and vibrant color to the table.

Butternut Squash. Whether whole or pre-cut, butternut squash is an easy dish to prepare and delivers an impressive amount of vitamins C and A, beta-carotene and fiber. Simply cut whole butternut squash in half, scoop out seeds and membranes and place flesh side up in pan. Add just enough water to cover bottom of pan, drizzle squash with olive oil, cover and bake until fork-tender. Or, boil cubed squash until tender. Mash with a touch of brown sugar and top with crunchy walnuts.

Sweet Potatoes. Like butternut squash, sweet potatoes contain plentiful amounts of vitamins C and A, beta-carotene and fiber. I invite you to incorporate sweet potato into your menu with my favorite family recipe below. Enjoy!
Aunt Barbara's Cranberry Orange Sweet Potatoes
Serves: 8

Ingredients

4 pounds sweet potatoes, peeled and cut into 1-inch cubes
6 tablespoons butter
2/3 cup light brown sugar, packed
1 1/2 teaspoons ground cinnamon
2 tablespoons orange juice
2 teaspoons grated orange rind
1/2 teaspoon salt
1/4 teaspoon nutmeg
1/8 teaspoon ground ginger
1 cup chopped pecans
1/2 cup dried cranberries

Directions

Preheat oven to 375° F.
Butter 9×13-inch baking dish.
Place sweet potatoes in dish.
In small saucepan, combine 4 tablespoons butter with sugar, cinnamon, orange juice and rind, salt, nutmeg and ginger.
Cook and continuously stir until sugar dissolves.
Pour mixture over sweet potatoes and bake for 30 minutes.
Melt remaining butter. Add pecans and remove from heat. Stir in cranberries.
Pour pecan mixture over potatoes and continue baking for 25 minutes or until sweet potatoes are fork-tender.
Andrea Samson, RD, LDN
Registered Dietitian
Big Y Foods, Inc.
Fruit & Vegetable Recipes
Video Center: Selection, Storage, and Preparation of Fruits & Vegetables.