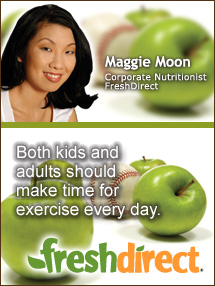 The temperate days of fall are made for being outdoors. The sunny days and cool crisp air are perfect for soccer, football, jogging, rekindling a relationship with a hula hoop or jump rope, dancing in your living room, or simply skipping across a field.


Along with a balanced diet,

regular exercise

is essential for maintaining a

healthy weight

, strong muscles, joints, and bones, and for lowering your risk of the big three chronic diseases in America: heart disease, cancer, and stroke. Plus, it just feels good!

Both kids and adults should make time for exercise every single day. Kids and teenagers should aim for 60+ minutes and adults should aim for 30+ minutes. A good diet helps you feel great before and after physical activity, and

fruits

and

vegetables

make it easy!
Before Exercise
Fuel up for performance and top off muscle energy stores with carbohydrates …

Fruit and yogurt smoothie
Apples and peanut butter
Your favorite fruit

After Exercise
Restore electrolytes with produce and rebuild muscle with protein …
Maggie Moon, MS, RD
Corporate Nutritionist
FreshDirect
Fruit & Vegetable Recipes
Video Center: Selection, Storage, and Preparation of Fruits & Vegetables.