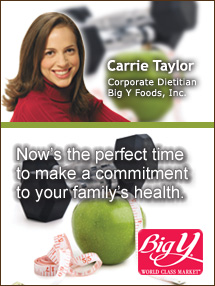 Ensuring your family is taken care of is a job in and of itself … sometimes an exhausting one at that! With so many "shoulds" parents have going through their heads at any given moment — We should eat healthier … We should get more sleep … We should lose weight — there are two "musts" you CAN easily achieve.


'Must' #1: Add Color to Your Plate with Fruits and Veggies

September is

Fruits & Veggies—More Matters® Month

… the perfect time to focus on

fruits

and

veggies

. And what's the trick of the trade in the world of fruits and vegetables? Don't eat without color! It's that simple. When you're building your plate for breakfast, lunch, dinner or even a snack, make the last step before you begin eating a simple question: "Where's my color?" If you don't see any, add some to your plate!

Try this …
On-the-go breakfast? Grab an apple to crunch on.
No refrigerator for snacks? Toss a handful of dried apricots in a baggie and store it in your briefcase.
Kids lurking while you're fixing dinner? Give them finger foods like baby carrots, broccoli and slices of bell peppers for dipping into hummus (another veggie!).
Want something sweet after dinner? Enjoy fresh raspberries and blueberries with whipped cream.
'Must' #2: Get Moving!
With
Michelle Obama's Let's Move initiative
at full force in the fight against obesity, perhaps you've become even more aware of the importance of physical activity for you and your family. You may also be aware that the hardest part to being active … is
starting
, right? But once you're on a roll, momentum keeps you going.
What if you took the hard part out of the equation? For example, instead of thinking "I really should join a gym," just go for a walk with your family after dinner each night. This is a great way to get your heart pumping and help young children (and hyper pets!) burn off some steam! And if the weather's not cooperating, have a dance party in your living room. Have cable? Order a yoga class on pay-per-view. There's no need to wait for the ultimate, perfect time to get started. The time is now!
Make a Commitment to Your Family's Health
Getting enough color by eating fruits and vegetables and being more active are two keys to feeling healthier, happier and more alive, while helping the fight against obesity. And now's the perfect time to make a commitment to your family's health by joining
America's More Matters Pledge: Fruits & Veggies…Today and Every Day!
Choose one of three fruit & veggie pledges
and we'll show you how to follow through!

Carrie Taylor, RD, LDN
Lead Registered Dietitian for the Living Well Eating Smart Program
Big Y Foods, Springfield, MA
Fruit & Vegetable Recipes
Video Center: Selection, Storage, and Preparation of Fruits & Vegetables.