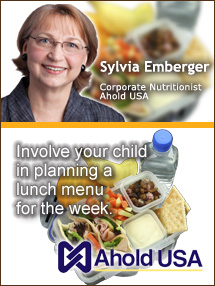 Peanut butter and jelly…again? When it comes to packing your child's lunchbox, are you stumped for ideas?

Having the right foods on hand makes it easier to pack nutritious lunches. Involve your child in planning a lunch menu for the week, making sure each day includes a whole grain, a protein source, a calcium source, vegetables and fruit. Make a list of needed items and shop for the foods together.

Sandwiches are convenient but can become routine. Make them more exciting by varying the basic ingredients:

Whole grains don't have to be the bookends for a sandwich. Try these combinations that combine grains, protein and vegetables in a different way:
Pack a serving of baked corn chips in a resealable bag. Include containers of black bean dip or hummus, tomato salsa or guacamole and a stick of reduced fat string cheese.
Use lettuce leaves instead of tortillas for wraps. For the filling, make chicken salad that includes grains such as bulgur, quinoa or crunchy noodles. Add cherry tomatoes or bell pepper strips on the side.
Serve a pumpkin muffin or slice of zucchini bread with rolled-up slices of lean turkey or ham and cheese cubes.
Children will eat fruit more readily if it is sliced or cut. Mix the fruit with ingredients that prevent browning, add flavor or provide extra nutrients. Try this:
Save Time
Consider packing lunchboxes the night before to minimize the morning rush. Older children can make sandwiches and cut vegetables and fruits. A younger child can pack the foods into the lunchbox. By being actively involved in packing lunch, children can learn more about healthy eating, be more likely to eat the foods they chose and develop a sense of ownership for their health.
September is National Fruits & Veggies—More Matter Month!
Fruits & Veggies—More Matters® and first lady Michelle Obama's Let's Move! initiative have teamed up to take action to fight obesity. You can do your part by including more fruits and veggies: more in the morning, more for snacks, more for lunch and more for dinner. Whether it's fresh, canned, dried, frozen or 100% juice, it's never been easier to eat fruits and veggies today and every day. And get moving by playing sports or active games for at least 60 minutes each day to promote strong bones and muscles and a healthy weight.
Take America's More Matters Pledge: Fruits & Veggies … Today and Every Day! and learn how fruits and veggies can play a bigger role in your family and your community.
Sylvia Emberger, RD, LDN
Corporate Nutritionist
Ahold USA
Fruit & Vegetable Recipes
Video Center: Selection, Storage, and Preparation of Fruits & Vegetables.