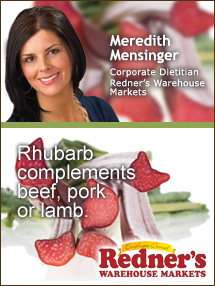 I'll never forget my first run in with rhubarb. I was working on my nutrition degree at the University of Pittsburgh and we were asked to do a presentation on a fruit or vegetable. One of my classmates talked about rhubarb and made rhubarb cobbler. Hesitant at first, I gave it a try … it was delicious! Ever since then I have been hooked!

Without that opportunity, I may never have tried rhubarb. It's not a well-known vegetable (yes, it is a vegetable!) and preparation and usage for these leafy stalks can be intimidating.

Cultivated for medicinal purposes in China over 5,000 years ago, rhubarb was used to treat stomach aches and fevers. Rhubarb's culinary debut was much later. Unfortunately, the English didn't realize that only the stalks were edible. Rhubarb leaves are poisonous and should never be eaten; this lead to the demise of the vegetable.

Rhubarb resurfaced in the 19th century with the new and well-deserved title of the "pie plant." Although great for desserts, this versatile vegetable isn't just for pies. It can be stewed into a sauce, made into a jam or can accompany savory foods such as beef, pork or lamb.

Rhubarb Tips
Store rhubarb in a plastic bag and place in the refrigerator or freezer.
Rhubarb is a good source of vitamin C.
Stalks that are deeper red in color tend to be sweeter. Green stalks may be on the sour side.
Due to its tartness, add a sweetener (sugar, honey, or fruit juice) to balance out the acidity.
Recipe
Rhubarb Crisp
Preparation time: 23 minutes
Serves: 6

Ingredients

Preheat broiler. In a large saucepan, combine rhubarb, apples, orange juice, cinnamon and 3 tablespoon Splenda®. Cover and cook over MEDIUM heat for 5 to 10 minutes, or until the rhubarb is just tender. Taste the mixture and add more Splenda®, if desired. Meanwhile, in a medium bowl combine bread crumbs, olive oil and brown sugar. Mix well. Spread bread crumb mixture on a foil-lined baking sheet and broil until lightly toasted, about 3 minutes. Spoon half of the bread-crumb mixture into the bottom of a shallow serving dish. Cover with the warm fruit mixture and top with remaining crumb mixture. Serve warm.

Nutrition information: 175 calories; 3.6 g total fat; 33 g carbohydrate; 3 g fiber; 137 mg sodium; 4 g protein
Meredith Mensinger RD, LDN
Redner's Warehouse Markets
Fruit & Vegetable Recipes
Video Center: Selection, Storage, and Preparation of Fruits & Vegetables.