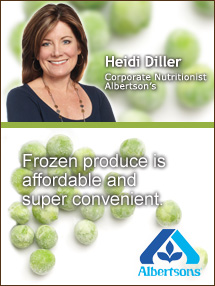 Need a meal in a hurry? Trying to limit your shopping trips? Want to save money? Try frozen produce!

I refer to frozen fruits and veggies as my favorite kitchen staple. What's not to love? Frozen produce is affordable, it's always there when I need it, plus it's super convenient. And what could be better than those single-serve or re-sealable packages? As a working mom of teenagers, I never know who will be home for dinner, so the ability to easily portion and store for a later time fits our ever-changing schedules.

Nutrition
I like to think of frozen produce as nutrients held in suspended animation. That's because frozen fruits and vegetables are processed within hours of harvest, thereby essentially "locking in" their vitamins and minerals. Some studies show frozen produce items may even be nutritionally superior because the vegetables are allowed to ripen longer before they are flash frozen. So, if you don't have a plan to eat your fruits and vegetables right away, try frozen ones instead.

How to Use Frozen Fruits & Veggies
Frozen fruits and veggies can be the foundation of a range of super-fast dishes, from smoothies and soups to stews and sides.

Here are 6 of my unique, family favorites …
Heidi Diller, RD
Corporate Nutritionist
Albertson's
Fruit & Vegetable Recipes
Video Center: Selection, Storage, and Preparation of Fruits & Vegetables.