I completely forgot how useful the crock-pot was until recently. Tucked away in my kitchen closet, my crock-pot usually gets used for the Super Bowl to hold chili dip and that's about it. But after a busy day of errands, I made this vegetable minestrone. It was so easy, healthy, and delicious … I just had to share! It's packed with vegetables, tomatoes, beans and ditalini pasta.
If you have the time, I recommend sautéing the onion, garlic, celery, carrots and zucchini in a bit of olive oil in a saucepan before adding to the slow-cooker. While not necessary, doing so will heighten the flavor of the vegetables and caramelize them in a way that's not possible in the slow-cooker. Perfectly bite-sized, ditalini noodles are my go-to choice for soup. If you can't find them, feel free to sub in elbow or other short-grain noodle. For a gluten-free option, consider cooked quinoa or sorghum.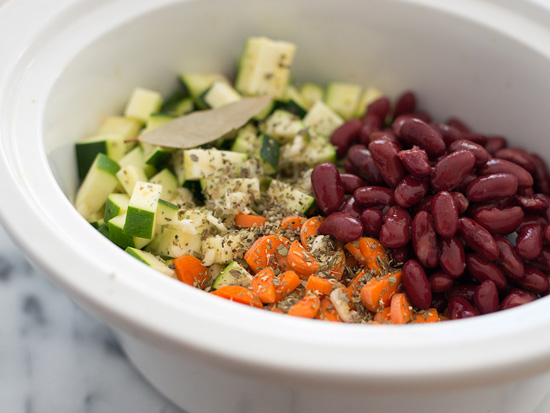 Slow-Cooker Vegetable Minestrone Recipe
Serves 6-8
Ingredients
1 large onion, diced
4 cloves garlic, minced
2 stalks celery, diced
1 large carrot, diced
1 zucchini, chopped into half moons
1 teaspoon dried oregano
1 teaspoon dried basil
1 28 -ounce diced tomatoes
1 14 -ounce can crushed tomatoes
6 cups low-sodium vegetable broth
1 15 -ounce can kidney beans, drained and rinsed
1 cup ditalini pasta
⅓ cup finely grated parmesan cheese, for serving
2 tablespoons chopped fresh basil, for serving
Directions
Combine onions, garlic, celery, carrot, zucchini, oregano, basil, tomatoes, vegetable broth and beans in the base of a slow cooker. Cook on low for 6 to 8 hours.
Just before ready to serve, bring a large pot of water to a boil. Cook noodles until al dente according to package directions, then drain and rinse with cold water to stop cooking.
Stir macaroni into the minestrone and cook another 15 minutes to warm through.
Serve, top with Parmesan cheese and basil.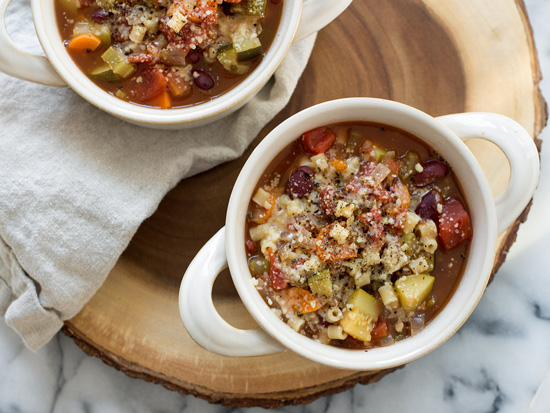 Nutrition Info
Per serving (8): 308 calories, 2g fat, 0.6g saturated fat, 3mg cholesterol, 205mg sodium, 1100mg potassium, 56g carbohydrates, 12.4g fiber, 8.8g sugars, 19.2g protein
Photo Credit: Alex Caspero