This story is in partnership with National Cattlemen's Beef Association on behalf of the Beef Checkoff. I received compensation, but all opinions are my own.
If you're looking forward to sunnier days ahead this summer, I'm right there with you. This Beef Burger Board was inspired by the desire I have to host friends and family in my home again and fill their bellies with something nutritious and delicious. I hope it does the same for you!
Why You Need This Recipe
It's no secret that a majority of people aren't eating enough fruits and veggies in their daily diets. The latest Dietary Guidelines for Americans (DGA) acknowledge that with some simple, purposeful tweaks, people can enhance the nutrient quality of the foods they already consume and enjoy – like burgers and sandwiches – by pairing them with colorful and fiber rich produce. Beef provides high-quality protein, iron, zinc, choline and B vitamins, making it easy to pack more nutrition into every bite alongside your top produce picks.
As a registered dietitian and mom, it's my mission to show you here in the Shaw Kitchen how to ADD more produce to your mainstay dishes while still pleasing your entire crew. While I know not everyone shares my affinity for garden greens and fresh summer peaches, there are certainly classics that we can look to when thinking how to increase our fruit and vegetable consumption.
Enter: this Ultimate Beef Slider Burger Board!
Ingredients You Need to Make This Recipe
Beef Burger Ingredients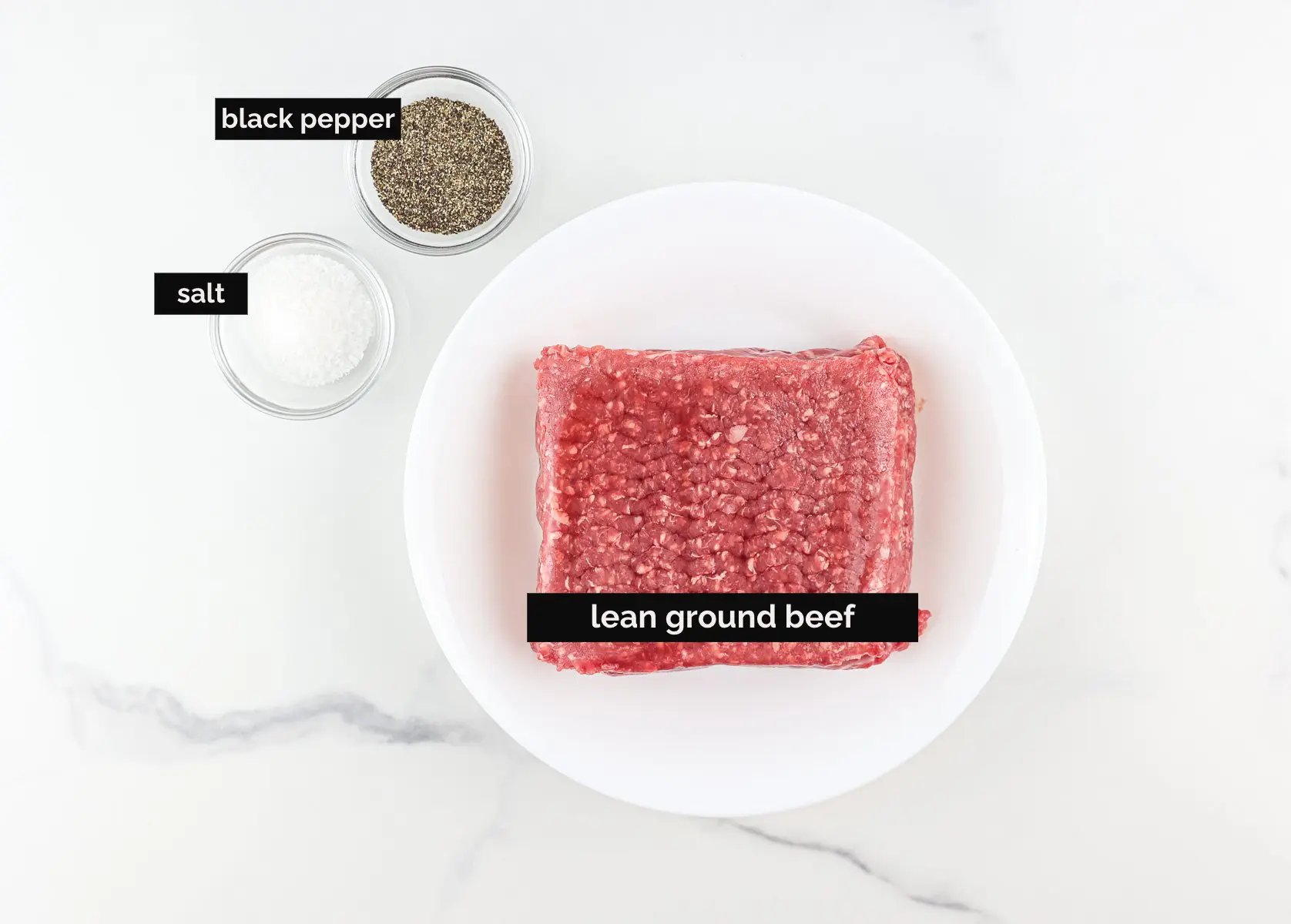 Burger Board Ingredients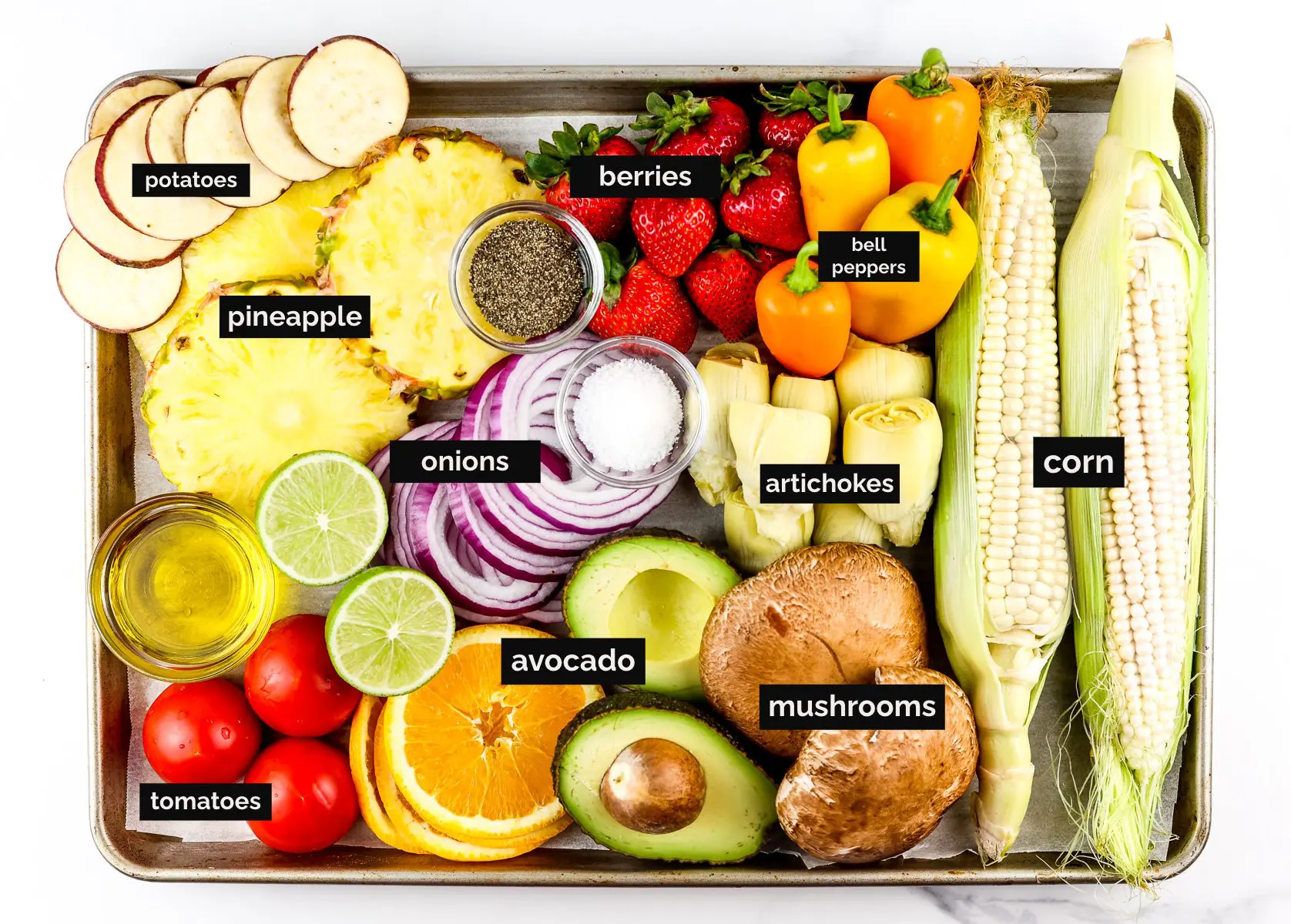 Adding More Flavor & Fun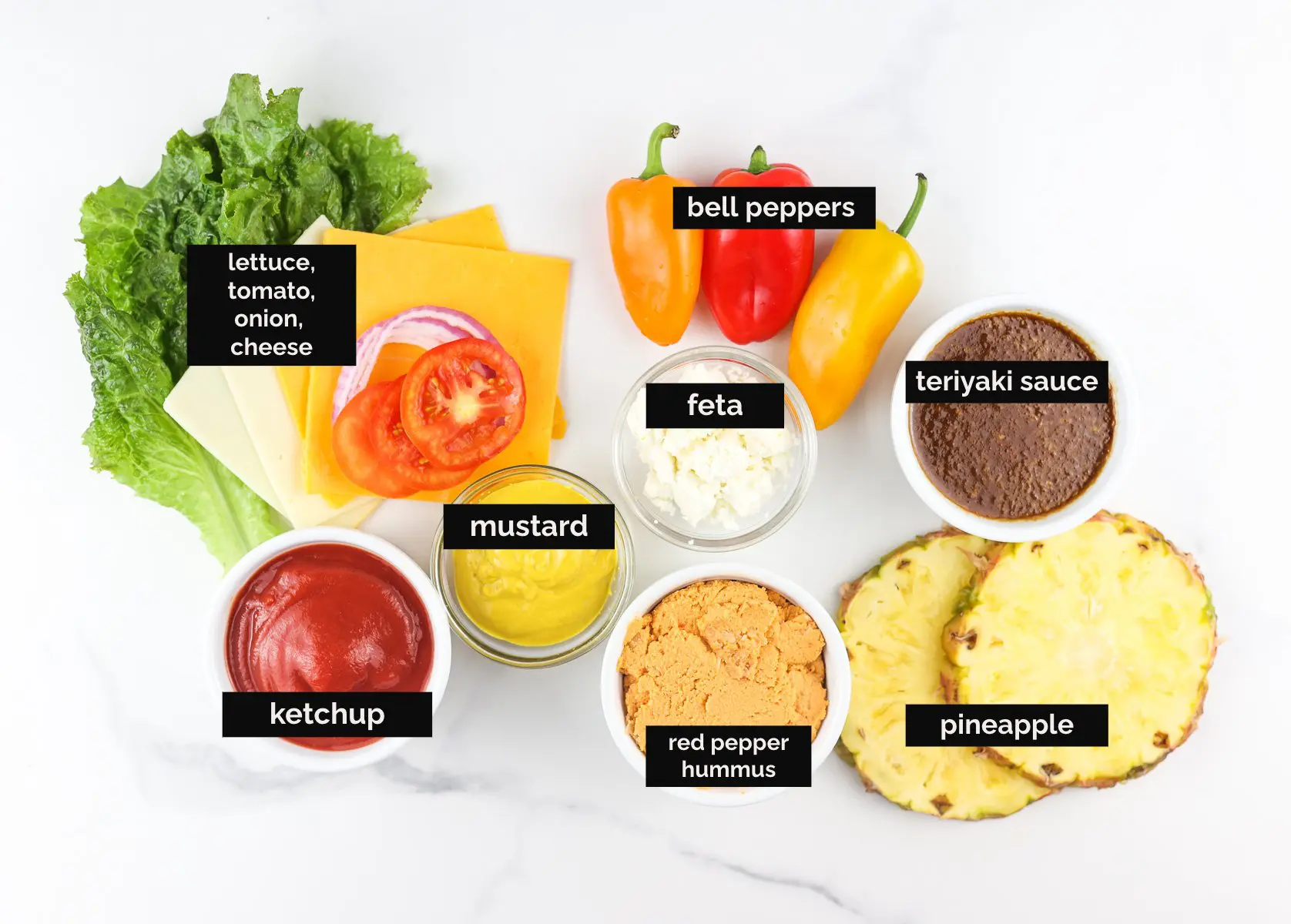 Ingredient Notes:
Ground Beef:  Feel free to pick your desired level of leanness, based on your personal preference. I chose 85% lean/15% fat for my beef burger board because it's preferred amongst my Shaw Kitchen crew. But, you do you!
Produce: use what's in season to make the most affordable and flavor packed board. Corn on the cob and seasonal berries or stone fruits work wonderful over the summer.
Ingredient Swaps:
If you want to switch things up, here are some variations to try:
To make it lower-carb: omit the buns and add more leaf lettuce to build-your-own lettuce wrapped beef burgers
To make it gluten-free: swap the whole wheat buns for a gluten-free roll or bun, or even corn tortillas for a little twist
How to Make + Assemble This Board
This is actually an extremely easy recipe to make, it just takes a little time to prep and slice the produce.
1: Prepare patties + grill.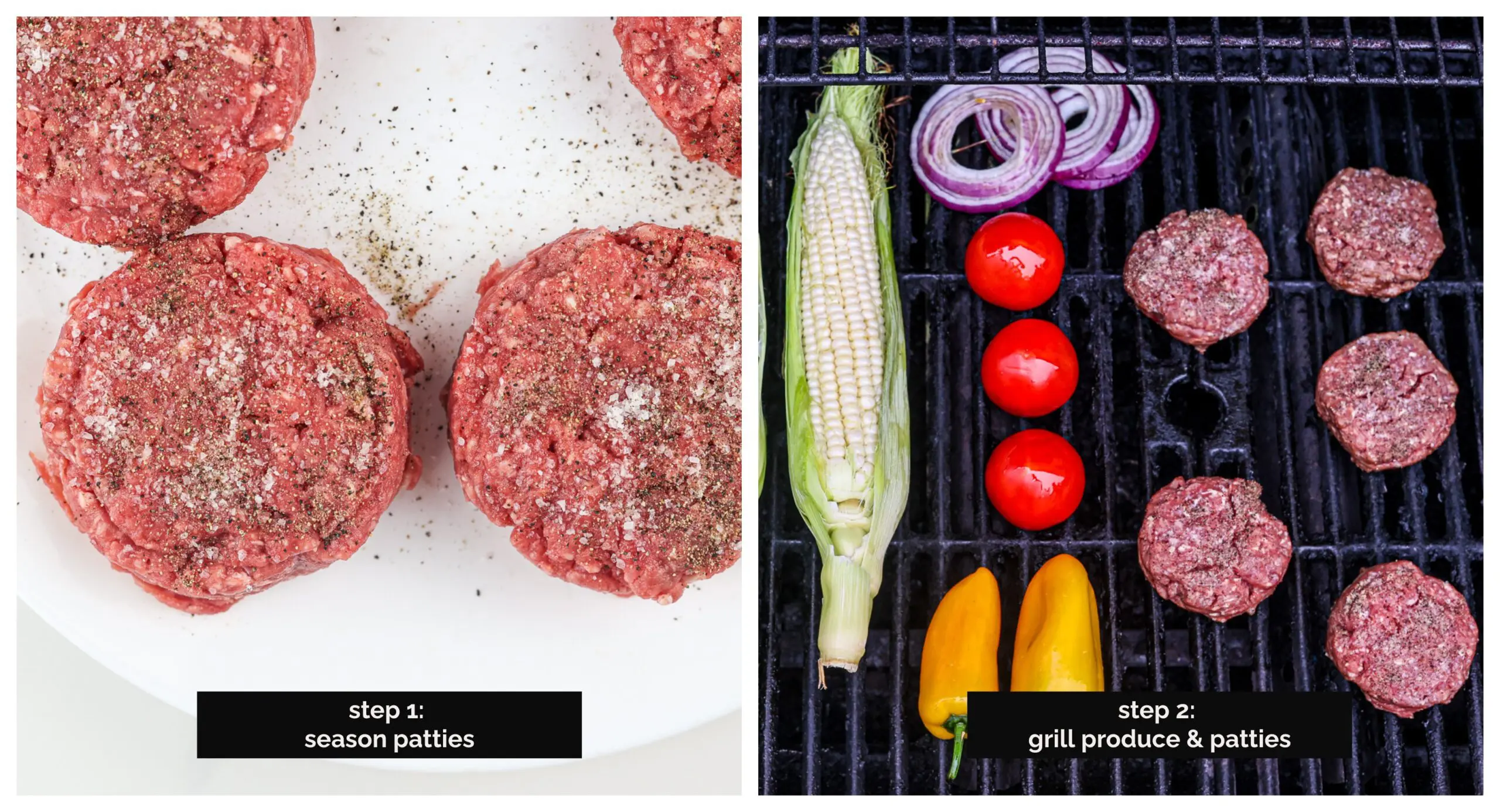 After prepping the ingredients pictured above, form Ground Beef into 3 oz. patties and place oiled veggies and patties on the heated grill.
Cook patties for approximately 8 to 10 minutes (or when internal temp reaches 160 degrees F) and produce has reached desired doneness.
Remove from grill.
2: Assemble board and burgers.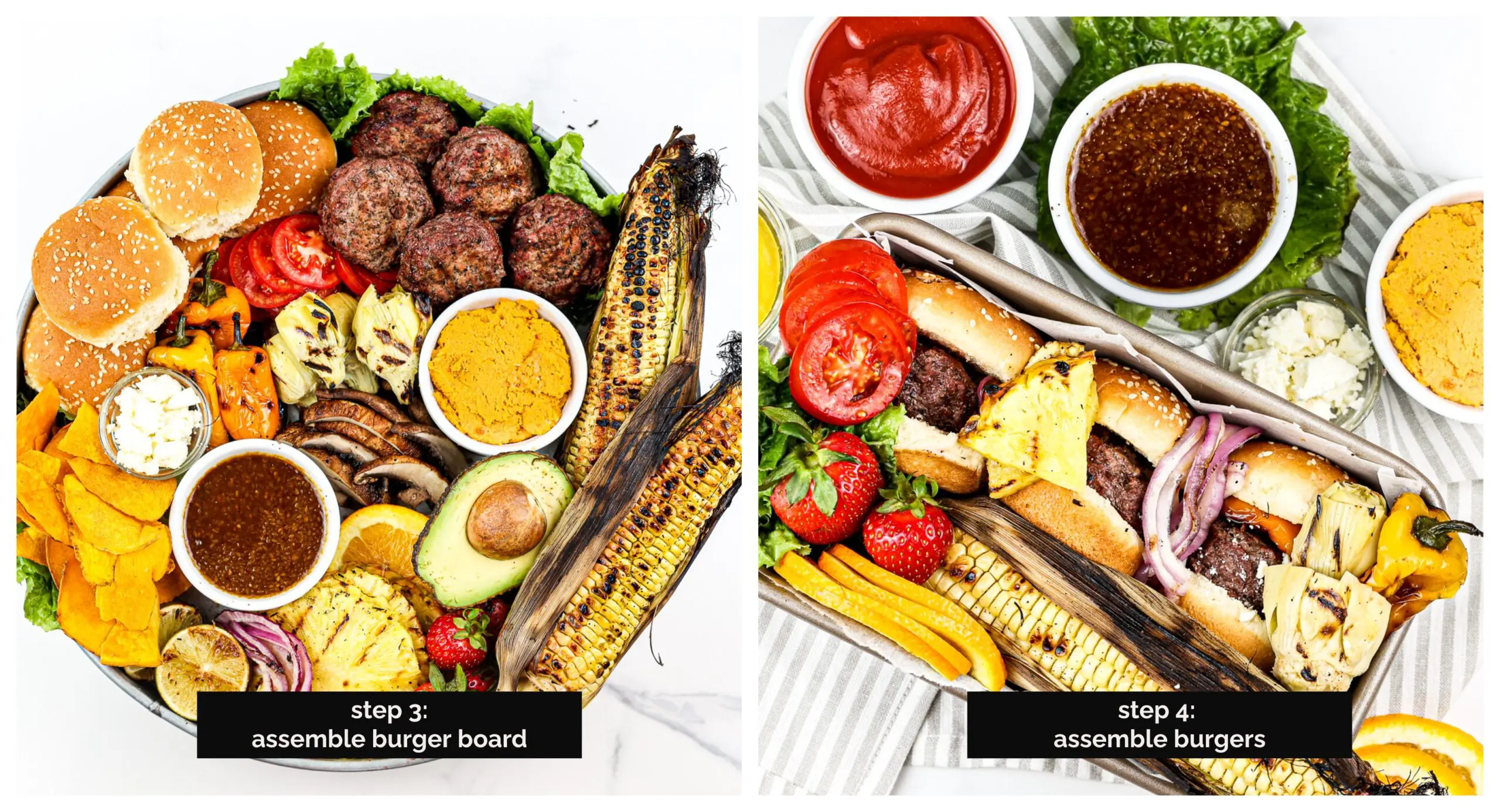 Assemble Beef Burger Board on a serving tray with rimmed sides. Start by placing a paper towel under the grilled items to help absorb excess moisture.
From there, begin to build the tray with the grilled vegetables and fruits on one side and the fresh and raw produce on the other. Add in condiments and additional fruits and vegetables.
Allow guests to build their own, or have a variety of pre-made burgers prepared in mini dishes for a grab-and-go style of eating (perfect if you are tight on time.)
Recipe Tips & Tricks
Don't overmix the Ground Beef patties. Use a gentle touch to maintain a tender and juicy texture.
Get the right cook. The safe internal temperature for Ground Beef is 160 degrees F following USDA guidelines, so be sure to use an instant-read thermometer to test them before pulling from the grill. The temperature will continue to rise a few minutes after removing from the grill. Also, consider making a dent in the center of the burger patty to minimize shrinking and optimize cooking.(Find more tips here.)
Season the outside of the patty. Think less is more.  A little salt and pepper goes a long way to flavor these burgers. It's also a secret of many famous burger restaurants like Shake Shack.
Flip produce when flipping burgers. Some produce takes a bit longer to cook per side than others, so try to arrange your grill setup so those items that have the same cook time are closer to each other for ease.
Save time and prep sauces ahead. If you're feeling up to it, whip up your own hummus or special sauces to top the burgers with. But, I'll tell you this, my simple swap secret often with this recipe is just picking up a few new fun sauces on my weekly shopping trip to toss on the board!
Beef Burger FAQs
Are burgers really a source of key nutrients for most Americans?
You better believe it! The Scientific Report of the 2020 Dietary Guidelines Advisory Committee (revisit my post here to learn more about the Scientific Advisory Report) noted that burgers and sandwiches already provide a source of protein, calcium, potassium, fiber for many Americans.
Plus, they often include whole grains, dairy, vitamin D, and a source of vegetables.
The BIG takeaway though is that there is a HUGE opportunity to expand on this by making my 3 oz Beef Burgers! Not only are they FUN to make, but they're  packed with 10 essential nutrients and can easily be personalized by pairing with more produce (like my Beef Burger Board right here!)
What should I look for when selecting lean Ground Beef?
The higher the percentage on the package means there is less fat in the Ground Beef. There are 3 types of Ground Beef on the market: 70% lean, 80/85% lean, and 93% lean. Before you select your choice of leanness of the Ground Beef, you need to consider what you are going to prepare with it. I like to use the middle 80/85% as my personal preference for Beef Burgers. It provides enough fat to hold the burger together on the grill while also maintaining that moist and juicy taste when cooked. The leanest option, 93%, is great for tacos and other casserole style meals.
Look for a product with a bright cherry-red color and firm to the touch. Note though Ground Beef in a vacuum-sealed bag typically has a darker purplish-red color; when exposed to the air, it will turn bright red.
Make sure the package is cold with no holes or tears and no excessive liquid. Always purchase it on or before the sell-by date.
Are there any produce items I should not grill?
Personally, I think YES! I did not find that berries (specifically strawberries) hold up well on the grill, even for a quick minute. I would recommend keeping the leafy greens fresh for the burgers to have the best texture and crunch. Other than that, have fun with your produce on the grill. Potatoes also make a wonderful addition when thinly sliced that can serve as a healthier swap for "traditional" sides like chips or French fries!