If you're like me, January and February can be tough months to get through.  The days are cold, tend to be gray and I spend more time indoors than I prefer.  One shining spot during these winter months is the fact that citrus fruits are in season.  Quite frankly, it couldn't be at a better time of year–I can't think of another fruit or veggie that is as much of a "burst" of sunshine than a freshly cut orange or grapefruit!  Of course varieties of citrus are available year-round, but during the winter months they are at their peak of flavor and you can buy them at great prices since they are so plentiful.  In addition, certain varieties of citrus fruits are also available that you might not see at other times of the year such as Cara Cara navel oranges, Mandarin oranges, clementines and pummelos.
Aside from their fresh flavor and bright appearance, citrus fruit is a terrific addition to your winter diet due to their excellent source of Vitamin C, known to help boost our immune system and help combat illness.  This is especially helpful during the cold and flu season.  Eating whole citrus fruits are also a great source of fiber, which helps aid in digestion and keeps you feeling full.  This is key for everyone who made those New Year's resolutions to reach or maintain a healthy weight.  Switching out one of your regular snacks with a clementine and a low-fat string cheese will cut calories and keep you feeling satisfied.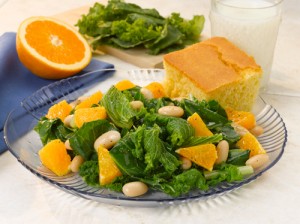 Another great way to use citrus fruit is for seasoning.  Lemon and lime juice, in particular, are wonderful for use in recipes.  In fact, lime juice can be used in place of salt for flavor–it provides the taste without the sodium!  Here's a great video demonstrating the various ways to use lemon and lime juice in some of your recipes.  Adding the citrus fruit zest can also add flavor to baked goods or salad dressings.  And, speaking of salads, don't limit yourself to using citrus fruits to only fruit salads.  Add sliced grapefruit to spinach salads or Mandarin oranges to other green salads.  Not only do they boost the nutrition, they also add an interesting twist to an old favorite.  Try Mixed Greens w/Fresh Oranges & White Beans or Broccoli Mandarin Orange Salad.
While adding citrus fruit might not make my winter go by faster, it does give me a little taste of the warmer days to come and I take advantage of the most flavorful citrus of the year.
See all posts