Fruit and Vegetable Ambassadors in Action
We are pleased to introduce PBH's very first elite expert network: Fruit and Vegetable Ambassadors in Action (FVAA). This prominent group of food, nutrition and lifestyle influencers is passionate about extending PBH's purpose by helping us to change consumers', particularly Gen Z and Millennial, behaviors toward fruits and vegetables through emotional, meaningful connections.
Throughout the course of the year, our FVAA members will be helping us create compelling content, so be on the lookout for tips and tricks from them on this website, as well as in our social channels and e-newsletters. We encourage you to visit their personal websites as well; you'll find our FVAA members easily identifiable through an exclusive FVAA badge they have all displayed on their blogs and social handles.
Meet our 2020-2021 FVAA Members
Our 2020-2021 FVAA member class was carefully curated to ensure we have a diverse group of ambassadors spanning a variety of areas of expertise. We went through an extensive vetting process to inform our approach, selecting members based on a wide range of stringent criteria. The result? A best-in-class network that will help us to inspire and motivate Americans to enjoy more fruits and vegetables each day for happier, healthier lives.
Interested in applying to be a PBH FVAA?
The application to become a 2020 PBH Fruit and Vegetable Ambassador in Action (FVAA) is currently closed. If you are interested in becoming a content contributor for PBH, please contact Katie Toulouse at [email protected].
As you consider partnering with PBH in other ways, here's a rundown of what we expect from our FVAA members:
FVAA Rules of Engagement
We ask our FVAA members to aid in content creation, based on their wealth of knowledge about fruits and vegetables and general passion for the produce industry. FVAA members are expected to:
Develop compelling content on a monthly basis, to be integrated into PBH's digital ecosystem. This content could include (but is not limited to): video for Facebook Live and/or Insta Stories; static posts on Instagram and/or Facebook; a one-day Instagram takeover; content for PBH consumer/influencer/industry e-newsletters; Twitter party hosting; recipes and/or articles for the PBH "Ask the Expert" section.

PBH aids FVAA members in identifying the right opportunities that speak to their area of expertise and balances the amount of content created each month.
FVAA members are encouraged to post PBH content on their personal channels, as appropriate, for cross-promotion.

Reference editorial calendar (below) for key themes to inspire content creation. This should be used as a guiding document, but we encourage FVAA members to flex their creative muscles!
2020 Editorial Calendar
Get inspired! We've developed fun fruit and veggie themes for every month of the year, to aid in compelling content creation.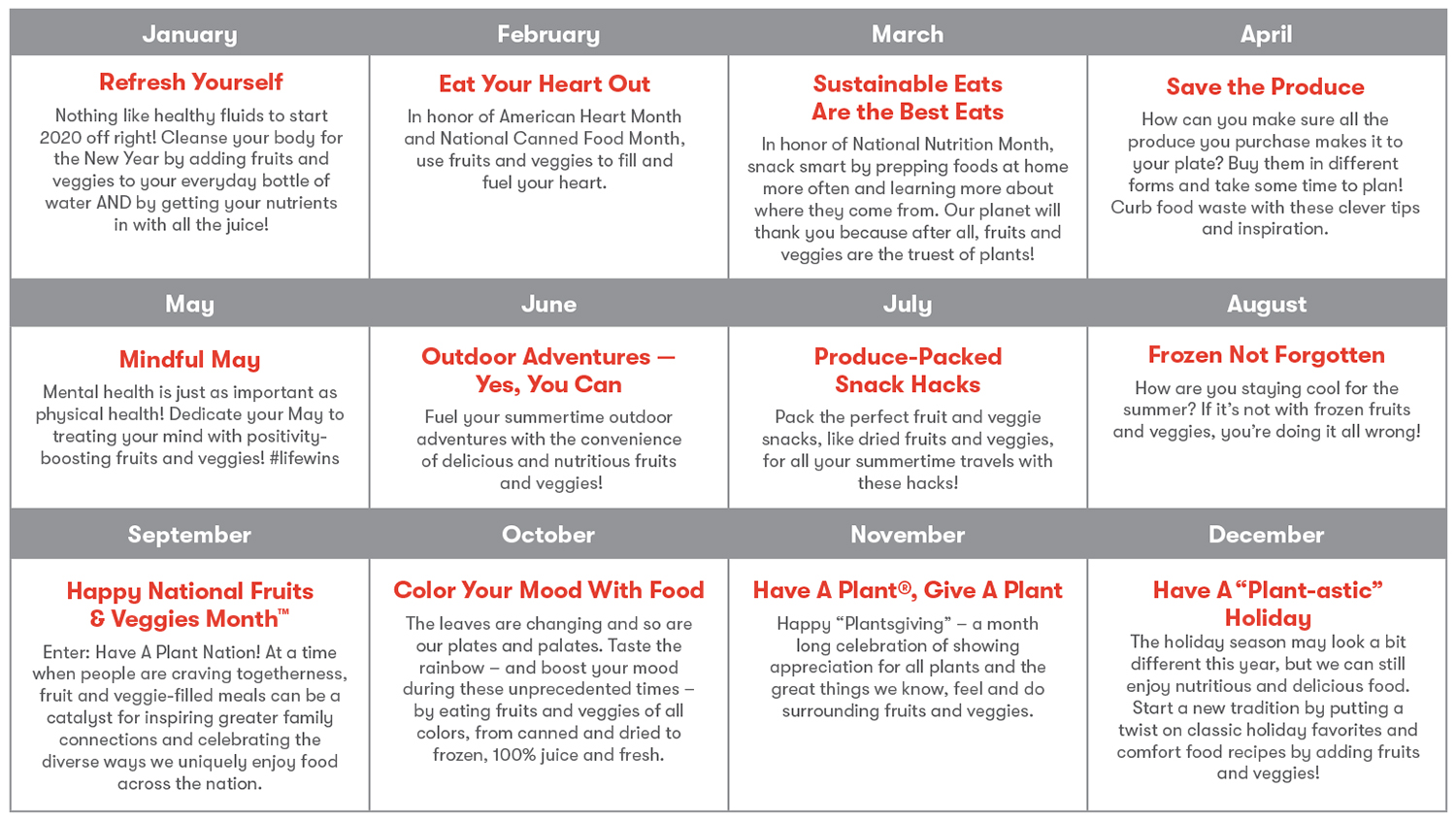 FVAA Badge
PBH has created an exclusive badge for FVAA members to share on their website and social channels, to illustrate the partnership and shared purpose.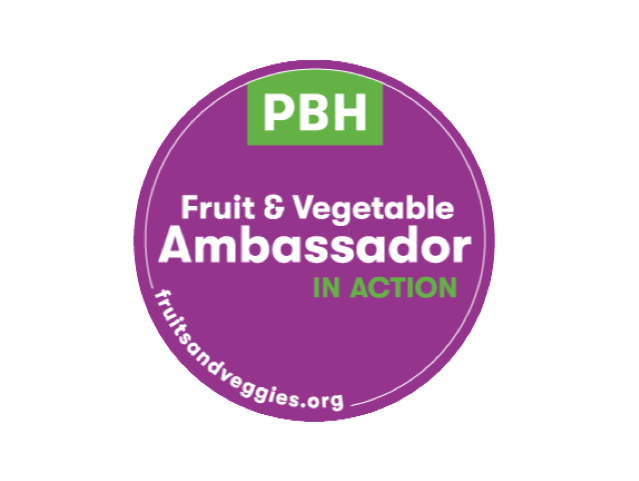 Added Value Opportunities 
We provide amazing visibility through our extensive digital community reach. We want to promote the cause and seek to lift up those that lift up fruits and vegetables! As such, we are pleased to offer various opportunities for our FVAA members, to aid in their continuing education efforts and overall content development. These opportunities also provide the FVAA with direct access to PBH members and resources.
FVAA members can participate in PBH educational webinars for health, food and nutrition professionals, as schedules permit.

PBH regularly hosts these webinars, generally in partnership with our members, to share new research, consumer insights and resources to help our FVAA members support Americans in improving their fruit and vegetable intake.

FVAA members are encouraged to share new PBH resources (infographics, meal plans, "tip sheets") with the consumers and peers they reach, through their social channels and in their everyday work, such as in presentations and one-on-one counseling.

PBH frequently develops new pieces like this, again often with members, to highlight new research and trends.
For more information on partnering with PBH, click here for our PBH Partnership Playbook, which we encourage all influencers (as well as our FVAA members) to reference when creating content.
Additional questions on the FVAA network? Please reach out to Katie Toulouse ([email protected]), for further details.